Spider provides Oakland Bay Bridge access
By Euan Youdale28 April 2016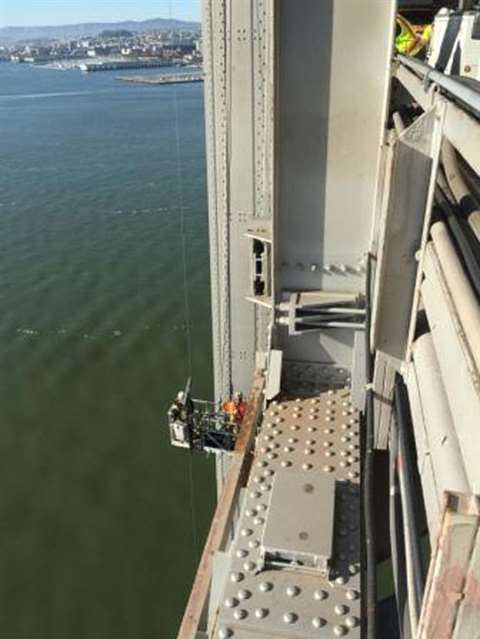 Spider has provided suspended access for various construction and retrofitting phases of San Francisco's Oakland Bay Bridge, US, most recently supplying the access, fall protection and training solution for electrical upgrades.
Rosendin Electric turned to Spider when faced with the task of installing conduit for new radar equipment and security cameras on the western portion of the Bay Bridge. Spider supplied two 11ft swing stages powered by SC1000 traction hoists, equipped with walk-through stirrups, and customised with 110V transformers that provided a power source for the crew's tools. These platforms were hoisted 250ft above the water by crane and secured into position by Spider's rigging team.
Additionally, Spider provided a work basket to access the interior of one columns, as well as horizontal lifelines and self-retracting lifelines for fall arrest protection. It also carried out customised Competent Person Training specific to the jobsite.
"Spider's work baskets, swing stages, hoists and fall protection equipment have been common sights on the landmark Bay Bridge over the past several decades for various construction, retrofitting, and maintenance projects," said David Beckett, vice president of Spider operations. "We're excited to be back on site, safely and reliably getting yet another trade to their work."
"Spider's support throughout this project has been invaluable," commented Leonard Morrison, superintendant with Rosendin Electric. "Their team accommodated our scheduling challenges and even provided same day service to ensure our crews are working safely with minimised downtime."
Spider's equipment is expected to be on site throughout the four month duration of the electrical project.