Spider supplies access in Seattle
By Lindsey Anderson03 June 2015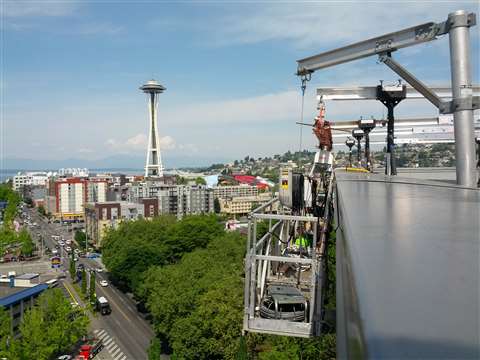 Spider, a division of SafeWorks, LLC, recently provided a complete suspended access and material lifting solution for glass repair work on a 10-story commercial office building in downtown Seattle.
All New Glass, a longtime Spider customer, asked to Spider for a solution. Spider provided two swingstages – one 50-foot and one 60-foot in length – each powered by SC1000 traction hoists and rigged with davits, gantries and counterweighted outrigger beams. Spider also equipped two monorail systems with Beta Max, Inc.'s Leo VFD material hoists to enable the glass panels to be transported both laterally and vertically.
Additionally, Spider rigged the equipment, provided onsite user training to enable the customer's crew to reposition the platforms throughout the project and supervised the first several maneuvers.
"Any time we have a suspended scaffolding need, we look to Spider," said Hugh Snyder, sealant manager and suspended scaffolding coordinator with All New Glass. "The monorail system they implemented for this project saved us time and increased our efficiency as we performed glass replacements covering a large area. As always, Spider solved our access challenges and took care of our special project needs."
The project began in May and is expected to be completed this summer.