Sponsored Content - Exploring the growing markets: a look at Sarens in India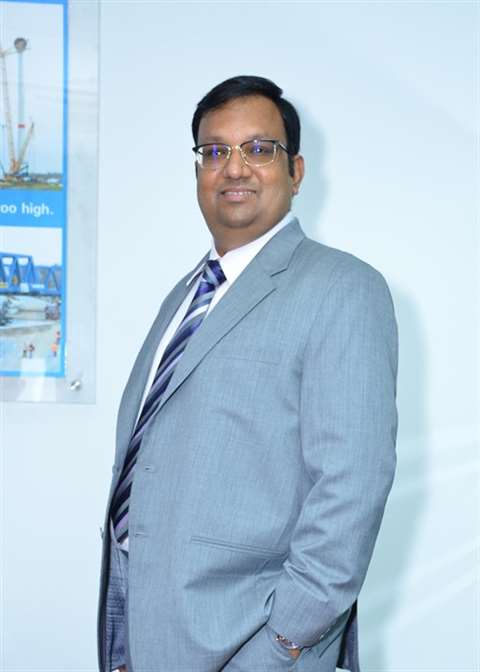 August 2018: This month, Sarens is shining the spotlight on the India division, which started operating in 2009and in less than a decade emerged as the reference in the industry, successfully catering to over 100 clients across 19 states.
Here, Navneet Jain, Deputy Regional Director, APAC shares his thoughts on the division's history, growth, and future outlook.
Tell us a little about the beginnings of the division, and where is it today.
Sarens Heavylift India Pvt. Ltd is a 100% subsidiary of Sarens, Belgium.We started operations in India in 2009 and since then have executed heavy lift erection projects, alternate lifting projects with strand jack systems and skidding, and heavy equipment transport across industry segments like oil and gas, wind power, civil, thermal power, mining, mechanical structure erection and petrochemicals.
With equipment ranging from 50T to 1600T, we are an ideal partner for small-scale to mega-scale projects. We currently employ 250 professionals in India and diligently man our clients´ projects with top market talent from across the world. Additionally India is also handling backend operations with around 110 employees for various Sarens BUs. Safety and excellence in all we do are paramount to us. We strive daily to establish a safe space for our people, your people, and the equipment. We make sure that our client's project is delivered in the fastest, safest, and smartest way.
Can you tell us about your major projects executed recently?
In 2017-2018, we executed five major projects apart from the regular projects:
Ramagundam Fertilizer Plant: revamp of an old non-existing plant to produce 2200 MTBD Ammonia and 3850 MTBD Urea. Sarens deployed its newly arrived CC8800-1 for the project.
HMEL Bhatinda: reactor lifting by CC8800
GRSE Kolkata: lifting of lock gates at Hoogly river by LR1800
Suzlon Energy: completion of 34 WTG with 2 nos. CC2800-1 packages
Gammon Engineers and Contractors: completion of around 300 girders from AIIMS to Digha Flyover project
How do you visualize the existing market and its future outlook? What challenges do you foresee in this business?
I am a firm believer that organisations which can offer professional and cost effective services would have best of times in near future. Though the present market is flooded with oversupply of cranes due to completion of the Reliance refinery projects and slowdown of wind jobs, but at the same time activities are picking up in civil, fertilizer plants, and upgrdation jobs in oil and gas sector.
The major challenge that crane companies will face is to execute the projects in most cost effective manner, given the pricing pressure but renewed construction activity in India would offer ample opportunities to well managed companies. There are also good opportunities to bring high capacity cranes to expedite the schedule of critical projects in Oil and Gas, Wind, Fertilizers, etc.
Which sector do you think drives the growth of heavy lifting and transport business in India? Are there any new projects in the pipeline? Any new rental projects as well?
Oil and Gas primarily drives the deployment of high capacity cranes in India and will grow in the next 5 years as various projects are lined up and few are already on ground. Further with the focus of the government the fertilizer sector has demonstrated rapid growth. Going forward, Wind and Infrastructure projects will definitely be driving the growth of the sector. The metals and cement sectors are cyclic and particularly good expansions are lined up.
What is the outlook of the wind sector in India?
Wind capacity has been growing in India at a remarkable rate. Today, India occupies 4th position in the world in generating wind energy and ranks 2nd in the Asian Wind market.
The sector is seeing new technological developments with latest policies and actions from government which has set a target of 60 GW for wind energy capacity to be accomplished till March 2022. The government is working to develop the offshore segment, setting aggressive targets and plans for the first offshore wind projects at the coastal region of Gujarat.
For both Onshore & Offshore Wind, Sarens in India is fully geared up with the services under TCI concept which means Transportation, Cranes (Suitable wind specific crane packages), and Installation (experienced WTG Installation team).
How has been the journey of the rental business in India? What are the 5 trends to name, for the rental business in India?
Rental business has undergone a great journey with obvious ups and down. The demand has increased significantly over last 10 years along with capacity requirement and so has the supply. This has resulted in more opportunities, however with reduced margins. Going forward, with new projects lined up the demand is likely to pick up with improved margins but earlier margins are not expected to be back soon.
Any change being foreseen in the services offered by Sarens for the crane rental business in the future?
Over a period of time, Sarens has become the reference in Heavy lifting and Engineered transport in India. Sarens has transformed itself from an equipment provider to a solution provider, which saves time, cost, and schedule for the client. For critical projects, Sarens has become a preferred partner with the concept of Early Contractor Involvement in planning stage itself.
Sarens recently decided to move one of their CC8800-1 to India, how has been the response?
The market response is excellent and as anticipated the industry has welcomed the move. The crane has been immediately deployed on arrival from port and has further deployments planned including projects in 2019.
How do you ensure that safety is not compromised while the cranes operate on the projects?
We have very robust training systems for operators and always supported with regular tool boxes . We have a unique concept of "Black box" in the system which records all incidences, that never allow crane to work beyond safe limits and gives immediate alarm and alerts to all, including operation manager for immediate action. We also have LMRA - Last minute risk assessment and observation of Life Saving rules by each employees. At Sarens, Safety is everyone's responsibility. Our SHEQ department does regular audits and we maintain all relevant ISO and OHSAS certifications.
You have been associated with Sarens for a long time. How have you seen the region evolve?
The journey with Sarens has been exciting and enriching. When I joined Sarens, we were mainly working with a few big clients, however over a period of time we are now working at more than 40 sites and similar number of clients. I am very lucky to have the best team to work with. Despite slowdown in market in the last two years, we have added more than 20 cranes in our fleet making total strength to 85. We have ambition to go upto 100 cranes. All our clients appreciate the professionalism that Sarens offers on jobsite and I would like to continue the same momentum.
Have you participated in any community related initiatives?
Sarens has directly and indirectly participated in the following social welfare activities in last one year towards our Corporate Social Responsibilities.
Supporting the orphanage named "Khushi" where we organize lunch and dinner for around 100 children a few times in a year. There are cleanliness drives organised by us like pest control treatment to improve hygiene level of the premise.
We organize blood donation camp once in a year with Indian Red Cross Society.
We donated to Swayamsiddha Trust which is a Kolhapur, Maharashtra based NGO working for Poor Child Education and Women Empowerment.
We donated to Venue Madhuri Trust which is a Kolhapur, Maharashtra based organization working for Water Conservation and Irrigation System in Rural Area.
We donated to Aadi Ghantakarna Charitable Trust which is a Mumbai, Maharashtra based NGO working for Social Welfare of the weaker section of the society and improvement of their life.