Sponsored Content - Sarens to open new branch and depot in Mozambique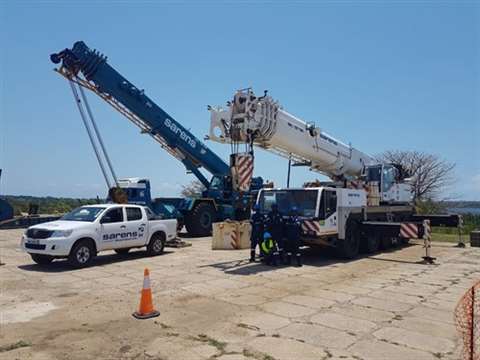 November 2018: As part of an ongoing commitment to serve its clients all over the world, Sarens is opening a new branch and depot in Mozambique, just outside the town of Palma. This new opening is in anticipation of the Mozambique LNG project, which is set to receive a financial investment decision in June of 2019.
The Mozambique LNG is located on the Afungi peninsula in Cabo Delgado province, where a potential 75 trillion cubic feet of recoverable natural gas have been discovered. Once work begins, it's estimated that more than 10.000 people will be stationed in Palma for the building of the onshore and offshore facilities.
Although Sarens has been operational in Mozambique since 2011, it has mainly been on a project by project basis. This new branch and depot opening establish Sarens as a permanent presence in the area. Sarens has already brought its 120T and 60T rough terrain, 100T all-terrain, and truck and trailer equipment to the site. Construction of the new depot is now set to begin here, on an approximately 5.600 square-metre yard.
The depot will be located close to the main street and with the access needed to transport cranes and abnormal loads. The facilities at the depot will mostly be containerised to allow Sarens to move and adjust as per project requirements. These will include:
Accommodation
Training facilities
Office containers
Workshop containers
Workshop facilities
Washing bay
Laydown area
Parking area
Ablution facilities
SHEQ facilities
Messing area
Gate and security outpost
As part of its presence in Mozambique, Sarens is investing in training local people. To date, the Group has trained and certified three local crane operators and expects to have an established team of local people trained and upskilled to British O&G standards by the time the LNG project kicks off.
This new branch and depot will serve the Mozambique LNG as well as the Resettlement Village and Pioneer Expansion Camp, Mocimboa da Praia port expansion and cargo offloading, various oil & gas projects, and the construction of related industrial and civil facilities.
Clients interested in working with the new branch should contact Francois Wilken, Palma Site Manager, at +258 84 617 9171 or Tim Biesemans, Sales Manager, at +27 60 962 42 82.