Sponsored Content - Spotlight on Sarens' new crane depot in Czech Republic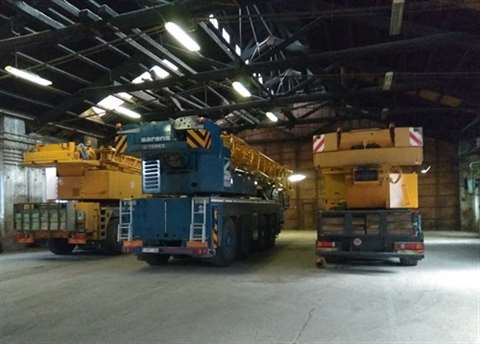 October 2018: In October of 2017, Sarens opened another of its worldwide crane depots in the town of Hradec Králové, Czech Republic. The depot is located on the premises of ZVU a.s., the largest machinery shop in the region, and with easy highway access it can serve customers across the city and throughout the Czech Republic.
The depot is a roofed 763-square metre hall with an additional 70-square metre office space, locker room, and bathroom, as well as a storage room for tools and accessories. At present, it has two Liebherr cranes: the LTM 1040-2.1 and the LTM 1090, and offers the possibility of using a 6-metre (30T) spreader beam and man basket. In the future, the depot's fleet will expand to include five cranes.
Janusz Pieczko, Deputy Regional Director for Eastern Europe and Jan Ottis, Country Manager share more about the Czech Republic depot:
What types of projects will this depot support?
The depot mainly supports smaller projects in the Hradec Králové region, as well as the construction of concrete or steel skeletons, building cladding, and construction of bridges. It is also offering sales support for the region's heavy lift market and uncovering new opportunities in Slovakia. We've built up our business here mainly through personal contact with customers, which we always try to improve and expand.
What are the key regions and markets that benefit from this depot?
The new depot supports automotive, oil, and gas and power station projects. Its main focus is on the East Bohemian region where companies like Unipetrol, Synthesia, Bilfinger and Opatovice nad Labem operate. Another major region is the Rychnov nad Kneznou, where a part of Skoda Auto production is located.
What are the advantages Sarens brings to this region?
The new depot brings the flexibility and background of a large global company to the Czech market. The opening of this branch is supporting name recognition for Alvian, which is part of the Sarens Group, and helping grow its operations in the region.
Would you like to share any final thoughts?
We would like to thank Sarens management for providing the resources to open a branch in this region, and for supporting its operation and efficiency in the Czech market.