SPP showcases prototype E-Series pump
By Helen Wright05 December 2014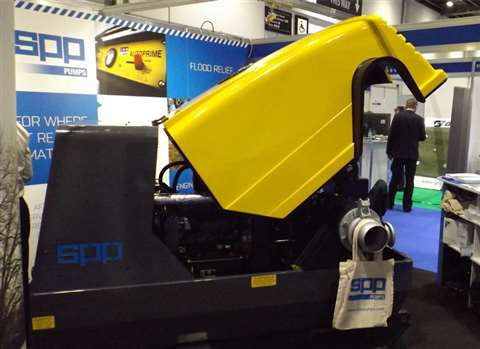 Manufacturer SPP used the Flood Defence Forum in London, UK, to present its new E-Series autoprime pump.
Designed for tough dewatering, sewer over pumping and bypass applications, the E-Series comes with an optional single vane open impeller for handling raw sewage containing stringy/fibrous solids and semi solids up to 100mm diameter.
It was also developed to be portable and lightweight, featuring a compact manoeuvrable design to allow models to be trailer transported and easily shipped.

SPP business manager Duncan Jackson said the company had worked hard to reduce the number of components in the latest pump, as well as simplifying servicing and maintenance access.

"We are adding to our existing Q-Series autoprime range with this new model.
Mr Jackson added, "In terms of demand from rental companies in 2015, we expect to see some increases across Europe and internationally – we also supply into Australia and have had a recent order here. The UK Environment Agency is also talking about big investments."

The Flood Defence & Prevention Expo runs from 4th to 5th December at ExCeL, London, UK.