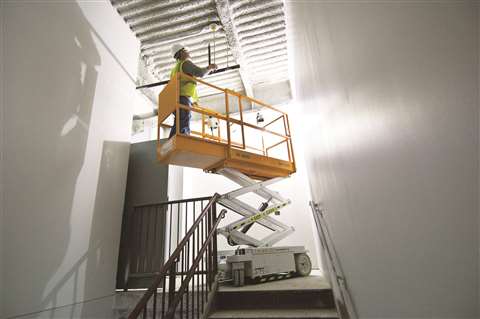 Manufacturers have started adapting their existing low level products to provide greater scope in the workplace for operators. One of the features that Custom Equipment has been working closely with a customer on is a pipe rack for its scissor Hy-Brid Lifts that helps workers safely transport materials from the ground to the ceiling for installation. It is an example of the kind of direction such manufacturers are heading in.
Justin Kissinger, Custom Equipment marketing manager, says, "We designed the rack to give the contractor an easy and efficient way to haul more materials to elevated workspaces, and now offer this solution to help other HVAC and plumbing contractors to be more productive," adds Mr Kissinger.
In addition to the pipe rack, the company has also started to include a tool tray on all of its self propelled lifts. Users can easily reach tools rather than bend down to pick up materials from the scissor lift deck. "We've also included a USB port that's built into the upper control so users can charge electronic devices, such as phones and tablets, on the go," says Mr Kissinger.
Safety continues to play a big role in the construction industry, especially when it comes to ladder and scaffold usage.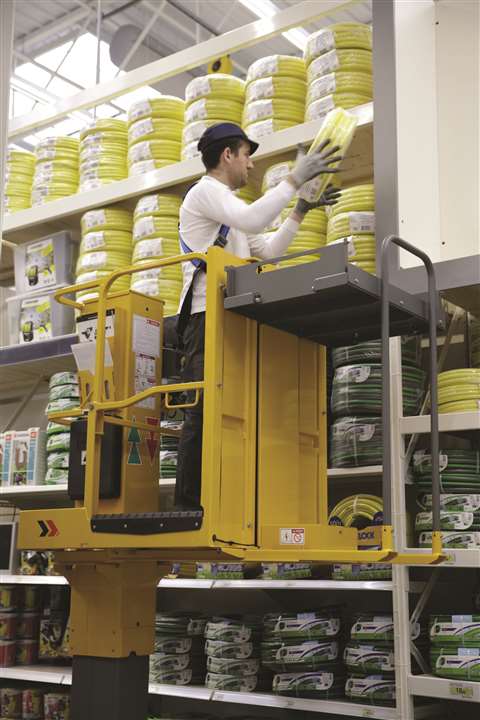 Mr Kissinger adds, "Every contractor has tools and supplies he or she must handle when working, whether it's at 2 ft or 20 ft. While ladders allow contractors to reach those higher projects, it puts them at risk for serious injuries from falls. Even scaffolds come with a high risk of falls. They offer a platform from which to work, but workers still must climb up and down the system with tools and materials in tow, which isn't necessarily safe or ergonomic. Electric scissor lifts, on the other hand, provide a secure space for contractors to move up and down with their equipment and materials to safely complete the job without strain. Falls are one of the biggest OSHA citations, and electric scissor lifts are countering that statistic. It is something contractors are really looking for, not only for safety, but efficiency, too.
Justifying need
One of the biggest challenges we see, says Mr Kissinger, is the difficulty contractors have in justifying the need and price of scissor lifts, whether they are renting or buying. Ladders are inexpensive and easily accessible; most contractors have plenty on hand they can grab and go. But contractors must also consider the costs associated with just one worker's compensation claim.
"The risk of falls from ladders and scaffolding is high and so are the costs associated with a claim, which averages $98,000 in medical care and lost wages per person. Safety is one of the hallmarks of our business and we will continue to educate the market on the risks associated with ladders and scaffolding as well as how our Hy-Brid Lifts offer an alternative that's not only safer but also more efficient and productive. "
Indeed, expanding on the theme of attachments to make life easier for the user, Haulotte has launched the Star6 Picking attachment. While the Star vertical mast products reach above what would be often considered low level access the Star 6 remains in this realm and the picking item provides a good example of how the sector is going. With removable side panels and a front end guardrail to protect 80kg of goods, the Star 6 Picking means packages are well braced and there is no risk of falls and damage to products.
Big Astore's Mak 1.
Faraone is also expanding its existing range with picking versions. The Elevah 40 Move Picking is an upgrade of the existing Elevah 40 Move. This self propelled drivable stock-picker provides activities up to 4m. It combines a light weight, of 172kg, with manual remote control in the basket, allowing a regulation of the picking platform. The Safe load capacity is 110kg + 40 kg. The picking tray is adjustable from a height of 610 mm up to 1440mm, giving a free space of 830mm to stack the goods. The tray is very close to the operator, allowing a very ergonomic working position.
Fellow Italian manufacturer, Big Astore is working on a new platform with a double use; a platform plus crane that can lift up to 100kg. At the moment the product is in prototype stage, amd more details will follow soon.
It follows the development of its latest low level access equipment, the Genius People Lift Mak 1, first introduced at Intermat exhibition in 2015 in Paris. Since then, the range has grown, counting now four different models: push-around, self-propelled and tracked with working heights up to 5m. The main benefits are their reduced sizes to fit everywhere even at home and reduced weight as they are completely made of aluminium. The protective guardrails can be removed and when stowed, allows the unit to be easilt transported. They also offer an easy raising and lowering system with electrical pistons and batteries.
"The trends seem to point to the substitution of ladders and scaffolding in favour of the low level access equipment maybe because of the safety that they convey. Besides people and companies want to work faster and in a safer way," says Big Astor's Carmelo Montalto. "The challenges are meeting the requirements of the customers, which are more demanding, and facing the difficult market situation."
Expanding market
Bravi is also changing its view of the market. "We have been selling mostly to central and northern Europe - Benelux, Sweden, Germany, Finland and Australia were our top five in 2016, however we can see it changing this year, as we have recorded an increase in sales in the US, Australia and Southeast Asia, that would lead us to foresee a different outcome in our top five for the 2017 sales. The first three months in any case have equalled the sales 2016/2017, with a slight increase," says Marina Torres, sales manager at Bravi.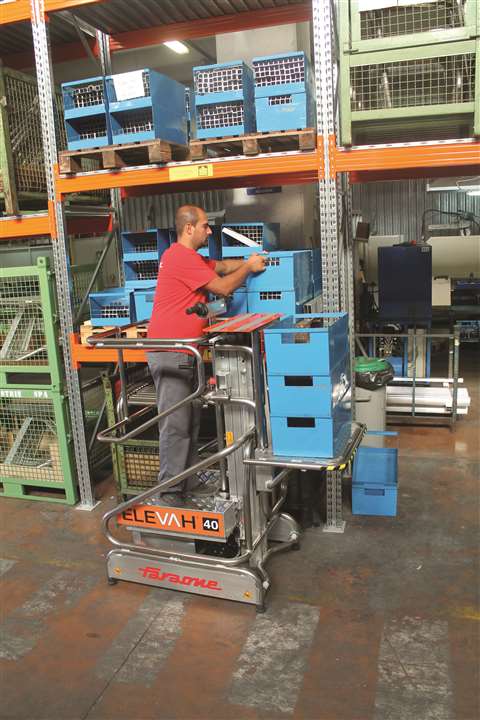 Faraone Elevah 40 Move picking
Mike Flanagan, Genie product manager, Terex AWP, believes low level access products continue to grow in popularity, both in Europe and North America. "This growth is likely due to strong non-residential construction in North America and areas of construction growth in Europe. These products are ideal for renovations of places like hospitals, schools and hotels which continue over many regions. These products do not have the same type of seasonality as other products, as they are primarily indoor machines."
Updates to the ANSI and CSA standards in North America, for example, will result in a global standards commonality, driving innovation in systems that have historically been only regional requirements. Users can expect load sensing systems in electric scissors and vertical mast lifts, along with slight changes to capacity, occupancy, or platform height ratings, says Mr Flanagan.
"Low level access is a growing segment in the aerial access industry, with increasing pressure to replace ladders with safer and
more productive alternatives. Furthering the reach of aerial access equipment into industrial, institutional, and homeowner applications will necessitate continued focus on proper training."
In Europe, many of Genie's distributors are commenting that there is a growing need for low level access equipment with up and over capabilities, according to Mr Flanagan.
Breaking out of the strict low level area, he provides an example of how the 12m working height Genie Z-33/18 electric boom lift offers up and over maneuverability with low-floor loading to match applications on sensitive floors."
With the continued trend towards ladder replacement on the jobsite, the Genie GR and QS models of Runabouts are true low level solutions due to their compact size, relative lightweight and zero-turn radius.
"Through customer feedback, we realised the industry needed a full heavy-duty construction version of the Runabout.
The Genie GRC-12 product for example, was designed for more demanding applications with its steel platform construction."