Straight to the point
By Christian Shelton03 April 2017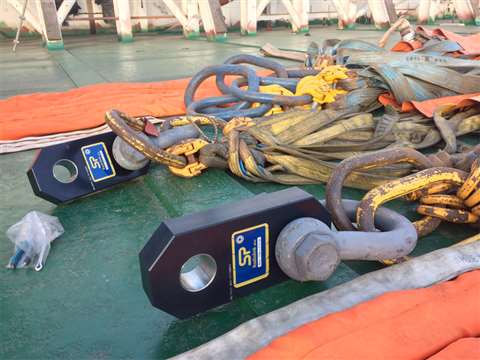 South African marine and lifting specialist, Anchor Industries, was recently commissioned by marine and engineering company, Dormac, to complete an overload test of a 500t capacity Liebherr BOS 14000-500D crane. The test comprised a 550t load being applied to the main hoist. Anchor also completed a 55t load test of the auxiliary hoist, as well as a 50t calibration test of the main hoist. Anchor Industries used water bags, in addition to a variety of force measurement and rigging equipment, to complete the load tests aboard a pipe-laying vessel in Cape Town Harbour, South Africa.
The Liebherr BOS 14000-500D is the main crane onboard the pipe-laying vessel and it requires testing every five years. For the most recent tests, four 75t capacity 'Radiolink plus' wireless load cells and four 30t capacity wireless low headroom links, all manufactured by Straightpoint and sourced from Anchor stock, provided data to handheld devices throughout the project. Another four 120t load cells from a different manufacturer completed the force measurement items used for the job.
According to Straightpoint, for the main overload test a dozen water bags were used in a near-40m, three-tier cascading rig. At the top and middle were two 100t and two 40t bags, while three 20t and a 30t bag combined at the bottom. Supporting rigging equipment was allocated to each lifting point.
Tyrone Tilley, national services manager at Anchor, said: "With a test this large there is always a certain level of stress and to have the Straightpoint products involved gave the team added assurances that the equipment was going to deliver in a pressurised environment."
Anchor was aboard the vessel over a three-day period. The first day was used for transportation of the equipment on two flatbed trucks, then rigging up the water bags. Day two saw completion of the 550t load test. The two additional tests, rigging down and offloading, took place on the final day.
Tilley concluded: "The job was well planned and executed within the timeframe without any significant challenges. We used handheld devices for this project but have recently acquired Straighpoint's multi-load cell reading software [SW-MWLC] and look forward to applying it on future applications of this nature."