Street Smarts: The Shell Starship rides again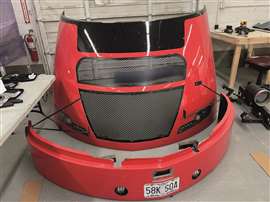 Shell's Starship is set to return to American highways this fall. Only this time, the one-off Class 8 research platform will be powered by a compressed natural gas engine, as Shell and Cummins engineers turn their attention to pushing the alt-fuel envelope in trucking.
The Starship began turning heads on the highway back in 2018. The truck was conceived by Shell Lubricants as a one-of-a-kind test bed to research advanced transportation technologies that were becoming widely available at the time.
Initially, the research focused on extreme tractor-trailer aerodynamics and, because this was a Shell project, on how the performance of energy-efficient, advanced lubricants could boost diesel engine efficiencies.
The Starship 1.0 version made its first coast-to-coast run from San Diego, Calif., to Jacksonville, Fla., in late 2018. On that run, it achieved 8.94 mpg. In 2021, after some tweaking, Starship repeated the run, this time achieving 10.8 mpg while carrying 18% more payload – 47,100 lb. compared to 39,900 lb. in 2018.
Independent analysts from the North American Council for Freight Efficiency quantified the results of the first two Starship runs, and they will trail the truck on its upcoming CNG run, as well, to tally the results.
A perfect test bed
Ryan Manthiri, project leader at Shell Global Solutions said the point of the CNG run will be to deliver a material demonstration of sustainable freight ton efficiency using key performance metrics, as well as ton-miles of goods shifted per kilogram of C02 emitted.
"The demonstration run will showcase how fleets can reduce their energy usage and emissions profile by utilizing today's readily available natural gas technologies and fueling infrastructures," he added.
Puneet Jhawar, general manager, global spark ignited business, is Manthiri's Cummins opposite number on the Starship project.
He noted that although the first two versions of Starship featured Cummins diesel power, there was no official collaboration between the two companies on the project, although Cummins engineers offered off-the-record insight and advice.
That has changed.
Jhawar said Cummins sees Starship 3.0 as a perfect test bed to gain early, critical data on the new X15N CNG engine and see how it performs in real-world operations.
"We only have approximately 15 X15N engines out on trials now," Jhawar said. "So, this will be a very early version of the engine and a golden opportunity for us to see how it performs."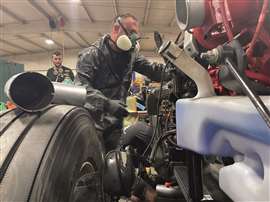 Putting the pieces in place
At a couple of secret facilities in rural North Carolina, the Shell Starship is currently in pieces as highly skilled fabrication teams with deep roots in NASCAR are reworking the Starship in new ways to set it up for its journeys as a CNG-powered truck.
At Reaper Customer Fabrications in King, N.C., owner Matt Greene and his technicians are working feverishly to fit it with specialized Cummins CNG tanks and a fuel system.
A few miles away, Greene's old boss and mentor Craig Tharpe, director of engineering and design at Spevco – another customer fabrication shop – is rebuilding Starship's cab to accept new fuel tanks and a new fuel system.
Other design points are being reworked as well. And all-new Shell and Cummins graphics reflecting the new powertrain are being added to the truck's exterior.
By mid-September, Greene and Tharp expect to have the new engine and fuel systems fully installed. They'll then spend a day reattaching the body to the chassis.
A couple more days reattaching wires, piping, electrical connections as well as plumbing new ones will follow.
Once all that is done, shakedown cruises will begin to troubleshoot any issues. Then, evaluation runs will begin on highways around the country will commence.
"We want to gain insight into comparative fuel economy and freight efficiency between diesel fuel and CNG," Jhawar said. "But we are also interested in demonstrating the range potential of this fuel in long-haul applications."
Another critical point Starship will explore is fueling infrastructure. "Up to now, CNG has been limited to regional-haul applications," Manthiri said. "But we feel that it is important to showcase that the range of this truck, combined with growing CNG fueling infrastructure nationwide, will demonstrate that this fuel is a viable option for long-haul fleets."