Strong growth for Chinese equipment
By Andy Brown22 March 2019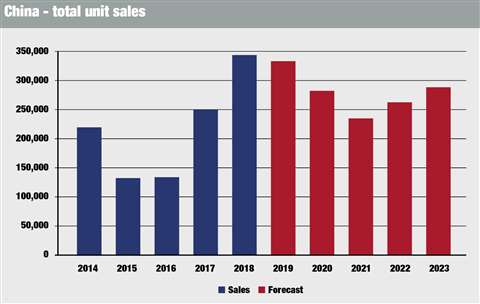 Sales of construction equipment including mobile cranes grew 37% in China last year, according to Off-Highway Research.
This followed on from the 31% surge in sales seen in 2017, taking the market to 343,817 units. This was the highest Chinese equipment demand has been since 2012, and established the country once again as the largest equipment market in the world.
Off-Highway Research managing director, Chris Sleight said, "There has been a remarkable surge in equipment sales in China since late 2016 in response to the 'One Belt, One Road' initiative and other infrastructure investment programmes.
"Off-Highway Research believes that as far as equipment sales are concerned, the peak has now passed. Although the projects themselves may have years to run, they have largely moved on from the earthmoving and site preparation phases, or at least there is enough equipment available to execute this work."
The excavator segment was a key driver of growth once again in 2018. Crawler excavator sales grew 41%, while mini excavators sales rose 42%. As a result, the various types of excavators together accounted for 56% of total equipment demand.
There was also growth in the wheeled loader segment, but with a 27% rise in sales, this was at a slower rate than the market as a whole. The fact that the growth rate was behind the market average for the second year running underlined the Chinese industry's structural change.
With a large population of wheeled loaders already active, pressure from 'economical wheeled loaders – essential cheap, low technology farm equipment – and the rising popularity of more productive machines such as excavators, the relative importance of this segment is diminishing.
Crawler dozer sales grew 32% cent last year, but overall volumes remain much lower than the historical peak and their share of the total demand fell to below 2%.
Mobile cranes experienced another good year with sales surging by 61%. Meanwhile the rigid dump truck sector finally returned to a growth, but volumes still remained low by historical standards.
On the down side, road building machinery such as asphalt finishers, compaction equipment and motor graders all saw modest falls in sales as a result of the levelling-off in of road construction investment.
The Chinese equipment market is now believed to have reached its peak in the current cycle. However, sales are only forecast to fall 3% this year. The market is expected to stabilise around 250,000 units from 2021 onwards.
Key findings form the new data and forecast will be discussed at Off-Highway Research's breakfast briefing on Tuesday 9th April, during the Bauma exhibition. Click here for more details and to book your place.