Summit conference programme confirmed
The conference programme for this year's World Demolition Summit (WDS), taking place in Boston, USA on October 23 and 24, is now complete.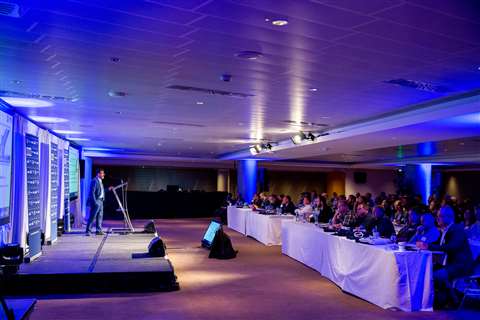 Bob Patullo, vice-president of Philadelphia-based Ramboll Management Consulting, will give the final presentation in which he discusses recent projects the company has fulfilled in conjunction with leading American demolition contractor Brandenburg Industrial Service Company.
The programme for the conference, at the Boston Marriott Copley Place hotel on Thursday October 24, is as follows:
0900 Welcome and opening remarks
Steve Ducker, Editor, Demolition & Recycling International
0905 NDA Welcome
Chris Godek, President, National Demolition Association
Morning session chaired by Jim Graham, Winter Environmental
0915 Keynote speaker
Establishing a demolition programme for Saudi Aramco
Adam Safran, Aramco
0940 Imploding the Crystal Palace Hotel and Casino Complex in the Bahamas
Fàbio Bruno Pinto, Fàbio Bruno USA
1005 San Francisco to Oakland Bay Bridge East Span marine removal foundation project, Phase 2
Greg Mix, Kiewit
1030 – 1110 Coffee break
1110 Urban Demolition of 33 Grosvenor Place, London
Grant Styles and Stuart Accleton, Erith Contractors
1135 Pulling down the Mosaic Stadium in Saskatchewan using computer simulation
Ian Bartels, Budget Demolition
1200 The Montreal Turcot Highway Interchange dismantling project
Simon Hebert, Delsan-AIM
1230 – 1400 Lunch
Afternoon session chaired by Bill Moore, ERM
1410 Construction and Demolition Waste Management in Europe
Johan D'Hooghe, Recycling Assistance/European Demolition Association
1435 Demolition in Africa
Joe Brinkmann, Jet Demolition
1500 – 1530 Tea break
1530 Marshall Hotel Facade Retention, Asbestos Abatement and Demolition
Rodd Palon, Two Rivers Demolition
1555 The Benefits of Turnkey, Design-Build Demolition Projects

Bob Patullo, Ramboll Management Consulting
with John Webb, Brandenburg Industrial Service Company
1620 Closing remarks by Bill Moore
1630 Close of conference
These details are correct at the time of going to print but are subject to alteration and all timings are approximate.
To book your delegate place please go online at www.demolitionsummit.com or phone +44 1892 786204 (from Europe) or +1 262 754 4180 (from the USA).
The World Demolition Summit is organised by Demolition & Recycling International in co-operation with the National Demolition Association and with the support of the European Demolition Association. The headline sponsor is Volvo Construction Equipment.