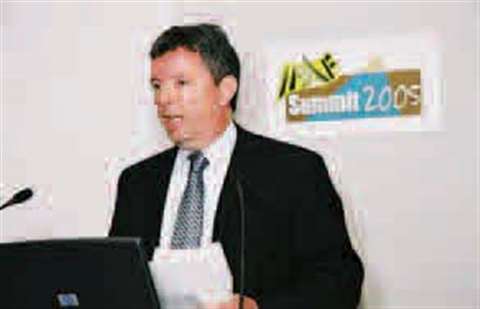 Close to 200 people attended the IPAF Summit at the UK's Whittlebury Hall last month. "I am delighted that it was such a strong turnout and the whole event was a great success," said managing director Tim Whiteman.
The audience heard Chris Gallagher of the Health & Safety Executive (HSE) allay fears that the Work at Height Regulations, introduced to the UK in April, would complicate lives of powered access users. "If you follow good practice now, plan and manage work at height, follow a hierarchy of risk and choose the right equipment, you shouldn't have a problem complying with the regulations," he said.
Former IPAF president Leigh Sparrow said that hire companies could benefit from the regulations if they presented themselves to their customers as "solutions providers".
Presentations by Gil Male, also of the HSE, and Facelift managing director Gordon Leicester included analyses of accidents. Mr Male used his analysis to explain why a new code of practice for the safe use of MEWPs is being developed. Mr Leicester demonstrated the contribution that harnesses have made in saving lives in accidents.
John Robertson of Time Consultancy urged platform owners and users to consider emergency planning. "Someone stuck in a platform of whatever height should be able to either self-rescue or be rescued," he said, adding that this was a requirement of the Work at Height Regulations.
Guest speaker was John Nichol, a former Royal Air Force navigator who was captured by the Iraqis in the first Gulf War after his plane was shot down. He described his ordeal with humour. Despite all the training and preparation he had received, he said, on the day that he was shot down "anything that possibly could go wrong, did go wrong".
At the AGM, preceding the conference, president Pierre Saubot described how IPAF had met or passed all the goals it had set for the year. He also paid tribute to long-serving council member Lars-Peter Godenhielm, CEO of Dino Lift, who is standing down. Steve Shaughnessy, operations director of A-Plant, has taken his place on council.