Supplier of the year award for JLG
By Euan Youdale29 June 2020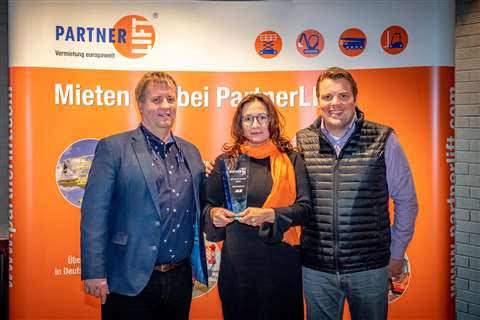 From left: Kai Schliephake, managing director, PartnerLift, with Ute Schnalzger, JLG sales manager rental and Lutz Schwede, JLG sales director germany.
JLG Industries has won a PartnerLift's Supplier of the Year award.
The manufacturer received the award at PartnerLift's annual general meeting. It was decided through a rating score from all members of the Germany-based cooperative of rental companies, which has more than 150 locations between them and over 15,000 rental units.
"JLG has received excellent ratings from all partners, particularly in the areas of product, service and sales," explained Kai Schliephake, managing director of PartnerLift. "That is why we congratulate JLG on having received the Supplier of the Year 2019 award in the self propelled work platforms category."
For Lutz Schwede, sales director at JLG Germany, the award comments, "We are valued for our product quality with customers and that our professional appearance is particularly well received in terms of service and sales. After all, we lay great importance and focus to the training and further education of our employees in order to always offer our customers optimal advice. If that is rewarded by the customer, then of course you are happy. This award from PartnerLIFT will definitely have a special place in my office."
Ute Schnalzger, who is responsible for JLG's southern German customers, added, "The PartnerLift team put a lot of work into the planning and organisation so that we all have an unforgettable day in Bamberg. The award naturally motivates us to continue to give everything, to convince with our products and to be and remain a trusted contact. Many thanks to everyone who made this award possible for us."