Manufacturers in this niche sector of the construction industry need to produce concrete and asphalt mixing plants that are working harder and faster, and are able to move from site to site with relative ease.
As well as this checklist, manufacturers also need to think about environmental factors, such as the re-use of reclaimed materials, which also result in economic savings.
Switzerland-based Ammann has recently released the RSS 120-M shredder, iron separator and screener that prepares recycled asphalt for use in an asphalt plant. The mobile machine is essentially a three-in-one piece of equipment for recycling asphalt that ranges in size from millings to larger pieces.
Another key feature of the RSS 120-M is its ability to go from installation to production in as little as 30 minutes. It is track-mounted and can be used on all types of terrain.
Ammann said, "A single operator can run the machine, which is comprised of a shredder that uses two low-speed, electrically driven shredder-rotating shafts. The RSS 120-M has milling cutters with interchangeable teeth that crush the material."
The machine can process up to 180 tonnes of recycling materials per hour.
In terms of green efforts, the RSS 120-M has a dust reduction system and minimised sound and emissions levels, the manufacturer said.
Recycling asphalt (RAP) is a necessity today when all major contractors are looking for ways to be more environmentally-friendly, at the same time as making savings where possible. RAP lowers production costs, lessens the impact on natural resources, reduces CO2 emissions and alleviates the need for expensive storage facilities.
Ammann has concrete and asphalt mixing plants as part of its product offering, including the CBT 60 SL Elba mobile concrete mixing plant. The engineers who developed this plant concept wanted to achieve fast installation times, unproblematic relocation and favourable transport dimensions.
The compact CBT 60 SL Elba is equipped with a single-shaft mixer CEM 1000 S Elba and an integrated linear bin for storing between two and four aggregate components. It is currently being used in Russia for the construction of the M11 – a high-speed motorway between Moscow and Saint Petersburg.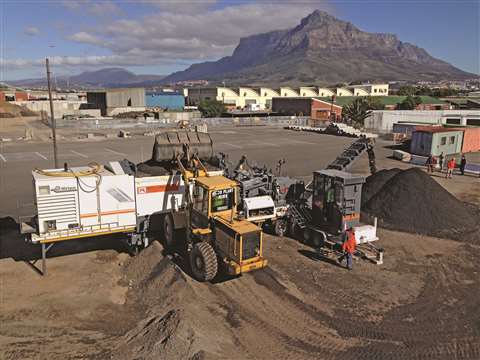 To meet the 2018 deadline, the contractor required a ready-mixed concrete plant that could be relocated to supply materials promptly.
Supplier of choice
US-based Astec was the supplier of choice in the recent 91 Freeway Toll Lanes project by Californian contractor R.J. Noble. Using its Astec Double Barrel asphalt plant with warm mix system, the contractor was able to finish the job in just eight weeks – two weeks ahead of schedule.
R.J. Noble chose to use a warm-mix asphalt (WMA) that contained 25% RAP, and over the course of eight, 56-hour-long weekends, the company managed to remove and replace more than 90,000 tonnes of asphalt. All the material removed from the toll lanes will be recycled and reused in new asphalt products.
The Double Barrell is said to produce 453 tonnes p/h.
Technologies developed by the company include Astec's patented V-Pac Stack Temperature Control System, which allows the operator to set an optimum stack temperature for a particular mix. The control system manages an asphalt plant's exhaust gas temperature and increases thermal efficiency with the help of the system's V-Flights – drum flights with a deep v-shape – while its variable frequency drives (VFDs) control the drum's rotational speed.
It lowers stack temperature on high RAP mixes, open grade mixes and stone mastic asphalt (SMA), and raises stack temperature on virgin mixes and low RAP mixes.
Astec's V-Flights were said by the company
to "provide greater uniformity of the aggregate veil during the drying process, which results in better heat transfer, a reduction of fuel use, increased productivity and longer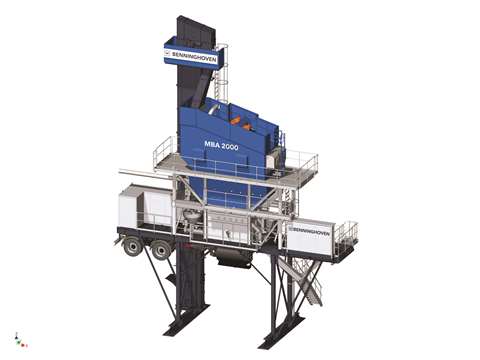 bag life".
Rehabilitation
Wirtgen, based in Germany, has been busy recently in Cape Town, South Africa, on the rehabilitation of Camps Bay Drive – a scenic route that provides access to Camps Bay and Hout Bay. Wirtgen's mobile cold recycling plant KMA 220 – owned by Power Construction – was used for this job to widen the road to accommodate the high volume of tourists and MyCiti bus traffic.
To minimise impact, the construction had to be completed outside of the summer peak tourist season and construction was limited to shortened periods.
The city had large volumes of reclaimed asphalt stockpiled from numerous maintenance works around the city. In order to reuse this quality material, foamed bitumen technology was used, allowing the base layer on Camps Bay Drive to be made from 100% reclaimed asphalt in the form of a foamed bitumen stabilise base (BSM) layer.
A geometric analysis resulted in the entire portion of the road being widened by 1.4 m.
During the project, approximately 8,150 tonnes of reclaimed asphalt were processed using 165 tonnes of bitumen and 78 tonnes of cement. Using the reclaimed asphalt within the pavement structure "provides a much more cost effective and sustainable solution for the future with depleting aggregate resources", said Wirtgen.
The benefit of using a cold recycling mixing plant is that the machine can be used in the direct vicinity of the operation site, saving time and money. The use of accurate, microprocessor-controlled spraying units for adding various binding agents means that mixing precisely to formula can be achieved.
The KMA 220 has a twin-shaft pugmill mixer that provides high levels of mixing performance with consistent quality. The processed material can be stockpiled or continuously loaded onto trucks using the slewing discharge conveyor.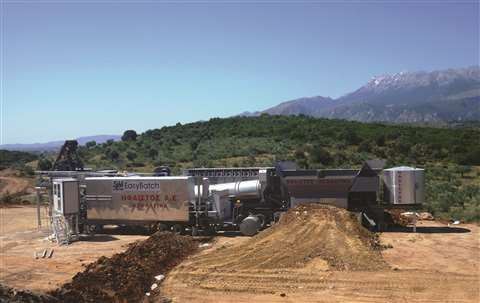 Flexibility on site
Production of Liebherr's latest concrete mixing plant – Mobilmix 2.5 – began in April 2016 and was said by the manufacturer to have short cleaning times, low wear and quick assembly times, including for covered plants.
Liebherr said that the Mobilmax 2.5 gives contractors flexibility of operation as the machine is easy to transport and can be fully set up within two days. It has a twin shaft mixer and was said to be comparable to a stationary mixing plant in terms of comfort and performance.
Compared to its predecessor, the Mobilmax 2.25, the output capacity has been increased by 10 m³, to 110 m³/h.
New features, compared to the older model, include a lowered mixer platform to simplify cleaning, a new keyless security system on the mixer access hatch, and a feed flap on the skip, as well as dust filter systems to provide maximum dust protection around the mixer platform.
Up to 140 m³ of aggregates can be stored in four or six chambers in the in-line silo. For easy overview, all functional assemblies, such as electric motors, gears, hydraulics, the mixer gate, central lubrication or the high-pressure cleaning system, are placed close together.
Benninghoven, part of the Wirtgen Group, released a new mobile asphalt mixing plant last year – the MBA 2000 – with five-fold screening as standard. As a mobile plant, it is ideal for construction sites with limited time frames or regions without extensive system availability. It is also easy to set up over a short period of time, as well as having a low logistical cost due to mobile transport on standard trailers with road approval.
The five-fold screening allows standards and formulation requirements in different countries to be met easily. The MBA 2000 also allows the contractor to add up to 25% of recycling material, depending on the base material.
The wearing plates have also been designed for a long service life and are precisely adapted to severe conditions, such as hard stone and thermal loads, the company said.
Benninghoven described the MBA 2000 as having "intuitive operation". In addition to the fully automatic mode, the control system can be manually operated so that the mixing operator can control all actuators and valves separately.
Austria-based SBM launched the SBM Minimix at the end of 2016, touted as the optimum solution for producing concrete in confined spaces.
The mobile concrete mixing plant has an output capacity of 50 m3/h of hardened concrete and was said by the manufacturer to work well even when small quantities of concrete are required. SBM said that the Minimix provides a construction site with "just-in-time" concrete production by having the benefit of being directly on site – delivering concrete to a crane, pump or truck mixer as desired.
The Minimix takes three hours to be assembled on site and can be installed with a single crane. It can also be easily transported as the modules can be separated lengthwise with a transport width of 3.5 m.
New generation
Italy-based Marini said that its new generation on batch plants were designed to "combine the traditional features of performance and technology with new high levels of fatigue resistance".
One of its mobile batch plants, the BE Tower, has seen a boom in sales in Argentina recently. The company said, "During 2016, around 50% of Argentina's spending on the importation of asphalt plants went to Marini, Italy. Thirteen plants were supplied, 11 of which were mobile batch types, mainly BE Tower models producing 120 to 160 tonnes p/h, plus two mobile 200 tonnes p/h Xpress models from Marini."
Marini said that the BE Tower is ideal for both inner city jobsites, because of its compactness, and worksites where mobility and rapid transfer are required.
The company also has the Xpress 2500 asphalt plant, which it said was a batch plant with high production of up to
200 tonnes p/h. It is tyre-mounted for easy transfer and is within the road transport limits – 2.5 m with a main trailer of 3 m.
The Xpress 2500 requires no special lifting equipment and has an incorporated hydraulic power unit, which means that the entire plant can be lifted and positioned in a short time using hydraulic cylinders.