Sweco to help deliver Denmark's €28bn energy island
By Mike Hayes15 August 2022
Stockholm-headquartered engineering consultancy Sweco has been handed a contract by the Danish Energy Agency, to oversee the progression of its proposed €28 billion energy island project.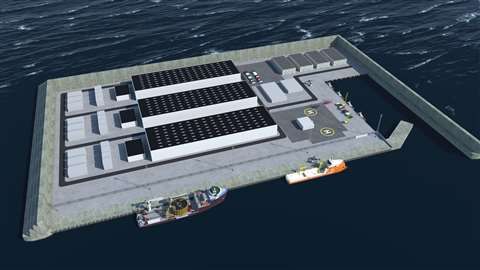 The deal will see the Swedish firm paid at least €48 million (and up to €79 million) over a nine-year period.
The scope of work in Sweco's contract includes proposing concepts, preparing tender documents, examining technical solutions, evaluating tenders and conducting inspections and quality reviews.
According to Sweco, these operations will continue throughout both the construction and transfer phases of the project.
The Danish Energy Agency announced its plans for energy islands in 2019, when it described floating platforms that would act as hubs for an array of interconnected offshore wind turbines.
Able to generate an initial 3GW of power (and with future expansion plans lifting total capacity to 10GW), the first 'island' could ultimately provide enough electricity to fulfil the requirements of 5 million households.
The theory behind the huge construction is to best exploit Denmark's significant wind resources, with electrotechnical facilities on the hub creating the best possible connections between wind farm energy in the North and Baltic seas and energy systems in the region.
At the time, Denmark's climate and energy minister, Dan Jørgensen, said, "It is a huge project. We need to build more than five times as much capacity as we have today. We need a sensible and ambitious plan for expansion. Therefore, we are now engaged in preliminary studies."
Åsa Bergman, president and CEO of Sweco, said, "The energy transition is one of today's greatest and most important challenges that is creating and will continue to create increased investment needs in many of Sweco's core segments. It is gratifying for us to be part of this journey and contribute to this transition as a prioritised partner for the Danish Energy Agency."