System Lift centralises orders
By Euan Youdale11 September 2018
AVS System Lift, the German association of more than 70 medium-sized MEWP rental companies, has centralised its ordering process. A result of which are orders valued at €18 million for Genie booms and scissors as part of its 2019 investment plans.
Leopold Mayrhofer, CEO of System Lift, and Fabian Markmann, the organisation's product manager, explained the deals followed a new way of carrying out negotiations and orders.
"In the past, our partners used to respond to negotiated offers and suggestions from our suppliers. We now have reversed this process — we as an organisation specified the amount of the offer we are ready to invest. The success of this process shows that we are on the right track.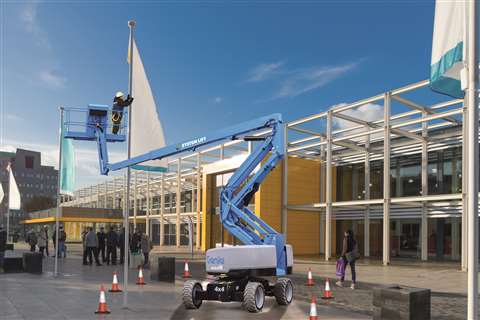 "With Genie, we chose a long-standing supplier and partner whose product range covers all the needs of today's access rental businesses."
Jacco de Kluyver, Genie VP sales & marketing, Terex AWP for Europe, the Middle East, Africa and Russia (EMEAR), added, "We are grateful for System Lift's trust and are very excited to receive the largest order ever placed in the GAS region (Germany, Austria, Switzerland).
"It's great to see how the System Lift partners leveraged their buying power and turned from an important and valued regional customer group into a large player, which enables the members to remain competitive in the market today and tomorrow."
Kluyver continued, "Not all System Lift partners have participated in the campaign yet, so there is potential for future business. We are looking forward to mastering more challenges of this kind."