System Lift reports rental growth
By Euan Youdale07 August 2017
AVS System Lift increased its revenue by 11% to €170.1 million in its 2016 financial year, compared to its 2015 financial year.
Leopold Mayrhofer, CEO of System Lift, a Germany-based cooperative of AWP rental companies, attributed the success above all to quality of service. "Our customers can rely on the highest level of service and state-of-the-art equipment at all times. We ensure this with our regular and extensive quality audits."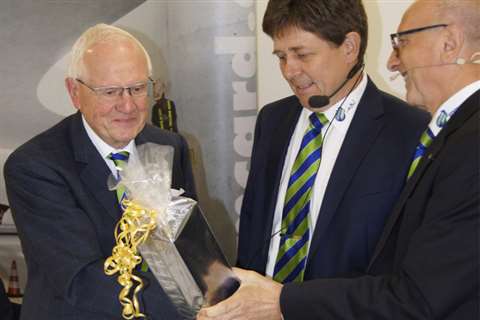 The System Lift partners invested € 43.5 million in equipment in 2016, compared to €39.5 million in the previous year. This brought the number of aerial work platforms and forklifts in the combined fleet to 12,600 units, plus 630 service vehicles.
A large number of the 810 employees participated in the further training with the System Lift Academy, including company owners, dispatchers, field staff and service staff as well as drivers. "At the moment, we are focusing on internal training and marketing in the so-called Customer Journey. At every contact point, we want to offer the best possible service to our customers, which also means that customers are aware of the strong community behind the System Lift brand, "explained Mayrhofer.
Training for the System-Card is expected to see continued strong demand. The e-Learning program, introduced in 2015, will also contribute allowing DGVU regulation 1 documentation to be completed via the Internet. Approximately 16,000 employees of customers participated in theory and practical courses during 2016.
As a guest speaker at the System Lift Annual General Meeting (AGM) in Morschen on 28 July, Dieter Schnitger from the VDBUM Association of Construction Industry, Environmental and Machine Technology, said diesel engine emissions would become more of a challenge in the future. "System Lift attaches great importance to low-pollution equipment and has set itself the goal of becoming the most environmentally friendly rental organisation for work platforms and forklifts as well as the related vehicle fleet," said the company.
Almost all System Lift partners attended the Annual General Meeting, where it was announced €620,000 from the 2016 financial year was distributed to shareholders. At the meeting It was also announced that Gerhard Piesker, who has been a member of AVS System Lift since it was founded 15 years ago, is stepping down from the Supervisory Board.
He said, "There is no organisation that brings as much as System Lift. Thanks to steady positive business development, a total of €5.1 million has been returned to shareholders since 2003."