Systra wins significant Grand Paris contract
By Mike Hayes09 September 2019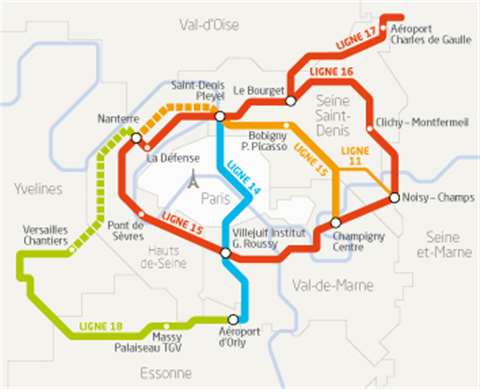 Systra will design and build line 15 east and line 15 west on the Grand Paris Express
Engineering and consulting group Systra says it has been awarded "an exceptionally big contract" on the Grand Paris Express rail project.
The Paris-based company will design and build line 15 East and line 15 West, a significant part of the project to revamp transportation links within the French capital.
Systra said the contract, awarded by the Société du Grand Paris (SGP) – the government agency responsible for the project – is one of the largest it has ever won in France.
When completed, the lines, covering a distance of approximately 43km, are expected to carry 1 million passengers and serve 27 Parisian communities.
The contracted work is set to commence this month – with Systra undertaking technical project management assistance – and continue until the commissioning of the two lines, scheduled for 2030.
Systra's managing director France, Didier Traube, said, "The Systra group is proud and honoured to have been selected by SGP to contribute to this project of such importance to the inhabitants of the Greater Paris region.
"This new assignment, exceptionally large for an engineering contract, confirms our commitment to SGP, with whom we have been in a partnership since 2011.
"We will carry out this assignment with passion, relying on our excellent knowledge of metro projects in the Greater Paris region and on our breadth of experience at the international level: this combined experience is a valuable asset which will enable us to respect the objectives set by SGP.
"We will mobilise a very large range of areas of expertise developed within the Group, including the management of large projects, civil engineering and rail equipment engineering, as well as architecture, environmental management, land management issues, and tendering processes."