Tadano Mantis showcases new telecrawler
By Christian Shelton17 March 2020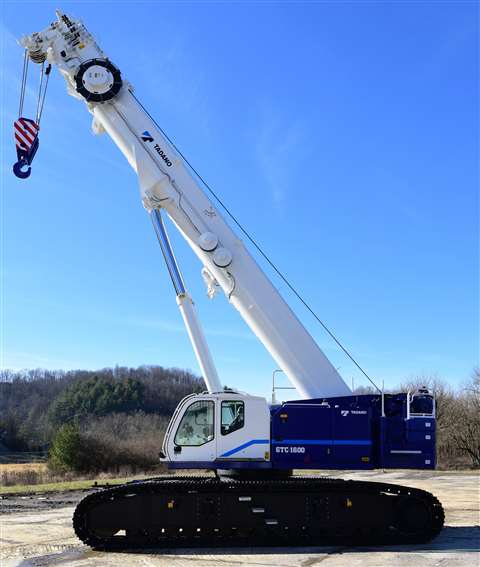 Franklin, Tennessee, USA-based telescopic boom crawler crane manufacturer Tadano Mantis Corporation used the ConExpo 2020 trade show to display its new 160 ton (145 tonne) capacity GTC-1600 model.
The telescopic crawler has a six-section hydraulic boom that extends between 42.8 feet to 200.1 feet (13.1 metres to 61 metres).
The crane also has a 33.8 foot / 59.1 foot (10.3 metre / 18.0 metre) bi-fold jib with offsets at 0, 20, and 40 degrees. A jib length of up to 105.0 feet (32 metres) is possible with two 23.0 foot (7 metre) optional lattice inserts, giving a maximum tip height of up to 305 feet (93 metres).
An optional 11.8 foot (3.6 metre) heavy lift jib with 20 and 40 degree offsets is useful for tilt-up work in tight spaces, said Tadano Mantis. Mechanical offset on all jibs is standard, with optional hydraulic offset available.
The GTC-1600 is designed for easy set-up due to features such as a self-erecting counterweight system with a remote control, as well as integrated carbody jacks and hydraulic quick couplers for track drive hose bundles – which Tadano Mantis says allow easy track frame removal and handling.