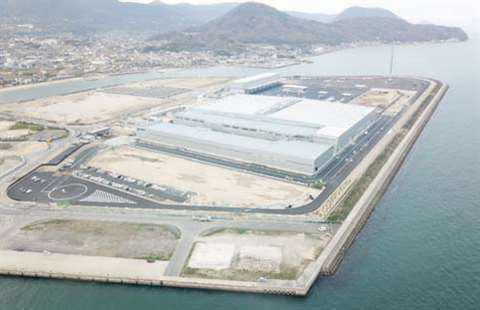 Net sales were up 8.5 per cent at Japanese crane maker Tadano in the 12 months to 31 March. The increase was JPY14,748 million (US$134 million), or 8.5 per cent, to a total of JPY188,451 million ($1.719 billion).
Revenue and profit increased for the first time in three years, the manufacturer said. In line with the company's aims, sales outside Japan increased, by 20 %, from JPY76.1 billion to JPY91.3 billion ($694 million to $833 million). Sales in Japan remained unchanged. Crane sales in Japan increased while aerial platform sales declined.
At JPY117,566 million ($1.072 billion) in the year to 31 March 2018, wheeled mobile crane sales, at 62.4 % of the group's total, were up JPY18,533 million ($169 million), or 18.7 %, from the JPY99,022 million ($903 million) the year before. Loader crane sales were up JPY989 million ($9 million), or 5 %, to JPY20,667 million ($188 million). They formed 11 % of the total. Aerial work platform sales declined 25.8 % to JPY18,320 million ($167 million), down from 14.2 % to 9.7 % of the total.
Sales were up significantly overall but operating income only increased by JPY300 million ($2.8 million) as a result of higher costs, the company said.
Looking ahead but excluding the impact of the Demag acquisition announced in February and due to complete at the end of June 2019, the company forecasts an overall sales increase of 6.1 %, to JPY200,000 million ($1.824 billion) and operating income increasing to 10.5 %, or JPY17,500 million ($160 million).
Note figures exchanged at JPY109.657 = US$1.00.