Tadano updates 70 tonne AT
Mobile crane manufacturer Tadano has launched the 70 tonne capacity AC 4.070-1 and AC 4.070L-1 four axle all terrain cranes which are upgrades of the ATF 70G-4.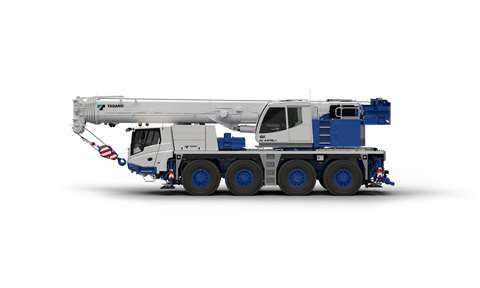 Mobile crane manufacturer Tadano has launched the AC 4.070-1 and AC 4.070L-1 all terrain cranes.
The new 70 tonne capacity four axle AT is an upgrade of the ATF 70G-4. Changes include a new carrier cab and both engines comply with the EU Stage V emissions standard. It also follows the new nomenclature in place from October.
The AC 4.070L-1 has a 52.1 metre boom in six-sections which "outperforms the booms of other four-axle competitors in its class," Tadano said. It is the same length as its predecessor but design changes mean it is stronger. Capacity with the boom fully extended is 5.8 tonnes. The AC 4.070-1 has a 44 metre boom.
Main boom extensions, named HAV (abbreviated from the description in German: haupt ausleger verlängerung) are available from 9 to 16 metres with manual or stepless hydraulic adjustment between 0 and 40 degrees. A 1.8 metre runner can be mounted on the boom on the opposite side to the double swing-away jib.
Another feature of the new model is its AML-F crane control system in the upper cab for crane operation. The manufacturer said the the new model has a larger total lifting capacity than its predecessor and that it continuously changes in line with all radii. AML-F helps minimise set-up time and improves flexibility, Tadano said.
Power is from a 340 kW Mercedes-Benz OM 470 LA diesel engine to EU Stage V for the carrier driving via a ZF TraXon 12.1 transmission. In the superstructure is a smaller, 129 kW, Mercedes-Benz OM 934 LA Stage V diesel for crane operation. Design changes to the carrier frame have strengthened it and improved the lifting capacity.
Axle load configurations can be set between 10 and 16.5 tonnes. To remain within a 12 tonne axle load limit, the crane can travel with up to 12.2 tonnes of counterweight.