Talbert launches 60 ton spread-axle trailer
By Alex Dahm05 January 2018
Specialized trailer maker Talbert in the USA has introduced the 60/65SA trailer designed to accommodate tri-axle and tandem-axle jeeps.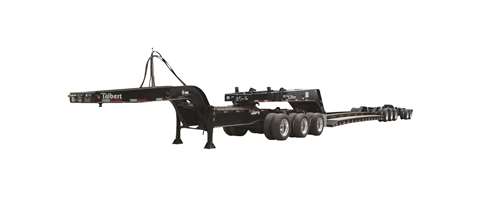 Capacity is 60 US tons (54 tonnes) and there is a 13 foot 6 inch (4.1 metre), two-point, rigid load base. It offers 2+2, 3+1 and 4 axle close coupled configurations and flexibility is a key feature, the US manufacturer said. With four close-coupled axles and no gooseneck extension the capacity is up, to 65 tons (59 tonnes).
The 60/65SA has an optional 70 inch (1.8 m), flip-up gooseneck extension to achieve a 190 inch (4.8 m) swing radius while its removable kingpin stations allow for a swing radius of 120 or 108 inches (3 or 2.7 m). As standard the trailer comes with a 30 by 8 foot, 6 inch (9.1 x 2.6 m) deck. Other deck lengths, types and widths are available. For easy loading the deck height is 22 inches (559 mm).
An East Coast-style E2NitroTM spreader on this trailer uses hydraulic fluid and compressed nitrogen gas to equalise axle pressures for proportionate weight distribution in each axle group. It is designed to give a smooth ride and minimise stress on the components of the suspension system.