Tallest excavator demolishes 11 storeys
By Leila Steed01 July 2019
Norwegian construction and civil engineering company Veidekke has used a Volvo CE EC750E HR demolition excavator to demolish an 11-storey shopping centre.
Surrounded by city streets with pedestrians, cars and trams, the House of Oslo measured 55,000 sq m (592,000 sq ft) and was one of the capital city's tallest buildings, according to Volvo.
Veidekke's EC750E HR has a maximum pin height of 36 m (118 ft) with a 3.6 t tool that gives the machine a 4 m (13 ft) reach and a 44% tool weight increase over its predecessor, the EC700C HR. In total, the machine removed around 70,000 t of concrete waste from the House of Oslo site.
Volvo CE said the new model was launched based on information and feedback from Veidekke about its machine requirements.
Jon Nässelquist, machine purchasing manager at Veidekke, said: "We required a machine with a long reach and that is what we got."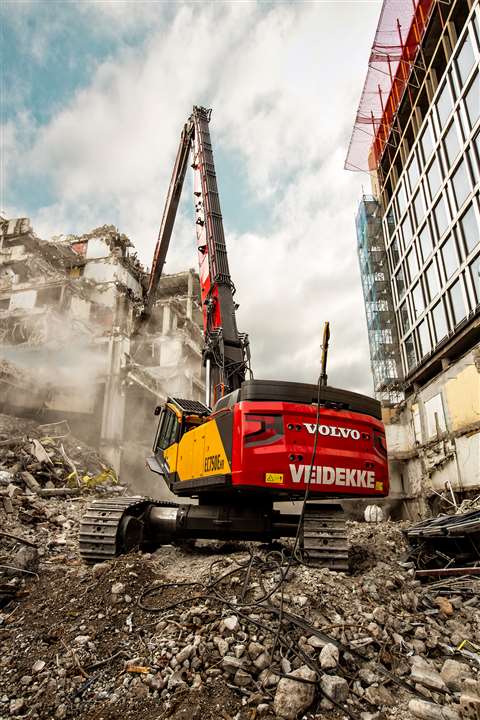 Heavier and wider than the bigger Volvo EC950E excavator, the machine weighs 104 t and has a track gauge of 4.3 m (14 ft), making it suited to sites surrounded by city streets with pedestrians, cars and trams. The model also features an extra 4 t of counterweight and a cab that can tilt up to 30 degrees, to help reduce neck strain and fatigue for operators.
"The width and the counterweight are what provide the machine with its stability," Jon said.
"It's as solid as a rock. Even when using the high reach, the machine remains strong and does not sway which is absolutely crucial."
EC750E HR also incorporates safety features such as a complete demolition guarding package and the new total moment indicator (TMI) system. The TMI system provides a real-time display of the boom and tool position and warns the operator when working in a dangerous stance.