Tandem bridge lift for Weldex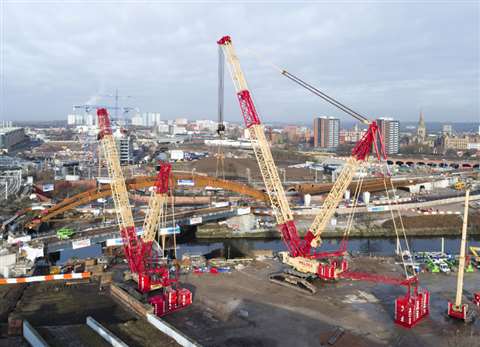 Weldex chose a pair of large Liebherr crawlers lifting in tandem for a bridge project in Manchester, UK.
The UK's largest crawler crane rental company, Scotland-based Weldex, used a 1,350 tonne capacity LR 11350 and a 750 tonne capacity LR 1750 lattice crawler to position the 560 tonne steel railway bridge at a 51 metre radius. Weldex positioned the 90 m bridge over the River Irwell. It will carry a railway linking Manchester's Picadilly and Victoria stations.
Work started in July 2016 for the LR 1750 where it spent six months being used to set up the lower section of the bridge and to assemble the arch. Its city centre location meant the bridge had to be delivered in small sections.
With the bridge assembled it was time for the LR 11350 to be set up, with 72 m of main boom and the 42 m derrick boom. It handled most of the weight and positioned one end of the bridge arch on the opposite bank of the river. A gross load of 357 tonnes, out of the 560 total, on the LR 11350 required its derrick radius to be extended from 25 to 30 m. It was in SLDB2 configuration.
Before hoisting the bridge over the river, the pair of crawler cranes had to move it in stages 30 m to the bank. During this process more derrick ballast was added using a 100 tonne capacity Liebherr LTR 1100 telescopic crawler crane to the maximum total of 600 tonnes. A total of 830 tonnes of counterweight was on the LR 11350.
Jarrod Hulme, bridge installation project manager at steel contractor Severfield, applauded the Weldex team led by Mark Hollett, who was responsible for the crane work. "Fantastic lads," Hulme said, "Weldex has never disappointed us in around 20 years of working with them."
The LR 1750 was rigged in SLDB configuration with 49 m main boom and 28 m derrick boom. It carried 95 tonnes of central ballast, 200 tonnes of turntable ballast and 350 tonnes of derrick ballast. The load capacity was 224 tonnes at a maximum of 26.8 m radius.