Taps on in Lake Mead tunnel
By Chris Sleight16 September 2015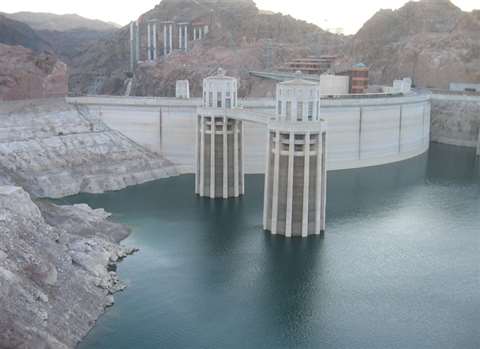 A new outlet tunnel from Lake Mead in Nevada, US has started to be filled with water. The milestone comes following construction of the tunnel by Vegas Tunnel Constructors, a joint venture between Salini Impregilo and S.A. Healy.
The tunnel was required because the water level in the reservoir contained behind the Hoover Dam has fallen some 35 m in the last 14 years due to dry conditions upstream in the catchment of the Colorado River which feeds it. This raised the risk of the level falling below the two existing outlets.
The drought prompted the Southern Nevada Water Authority to put construction of the new tender in 2008. The scheme has seen the joint venture bore a 4.5 km tunnel some 200 m below ground in water pressures up to 15 bar – equivalent to diving to a depth of 150 m in open water – using a 7.2 m diameter Herrenknecht tunnel boring machine (TBM). Herrenknecht said this was the highest water pressure ever encountered by one of its machines.
Due to its strategic location at the bottom of the lake, the intake – known as the Third Straw - will become the primary water supply for the Southern Nevada area and ensure continued access to water even with declining lake levels.
The filling of the tunnel will last approximately two weeks. By the end of September, Vegas Tunnel Constructors is expected to remove the bulkhead that will connect the existing pump stations.
For more details on the project, see the feature on tunnelling in the May 2015 edition of International Construction. An on-line version of the article is available here. Click here for a FREE subscription to International Construction, including access to back issues.