Tech a look at tomorrow's construction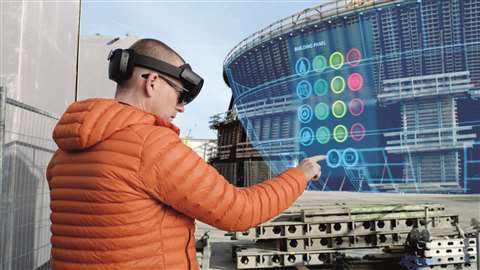 Bentley Systems will illustrate its Synchro system, with Microsoft's Hololens 2 headset
Reflecting the growing prominence of new technology in the construction industry, ConExpo's Technology Experience will be bigger and better than before.
Dana Wuesthoff, VP of exhibitions with AEM, the show's organising body, said of the expanded technology offering, "We want visitors to consider how innovations will impact their operations, so we're pleased to provide immersive demonstrations where cutting-edge ideas and game-changing technologies are presented in a fun, insightful way."
The main themes for this year in the Tech Experience centre will be Modern Mobility, Sustainability and Smart Cities, and it's under this last banner that visitors will see a huge smart city model, demonstrating how future urbanisations will be run 'smarter' using sensors and analytics. They will be able to respond to changes in heat, wind and weather and utilise the power of 5G communications, telematics and the Internet of Things.
In terms of tech specialists with construction at their core, Bentley Systems will offer a first full demonstration of its new Synchro Construction Modeler which, the company says, is capable of transforming the design model into a true construction model.
Visitors will also be able to experience walkthroughs of Bentley's mixed reality Synchro XR software for Hololens 2.
The WorksManager system will be demonstrated by Trimble, who will describe the benefits of its software for busy managers working across multiple jobsites.
The system acts as a hub, enabling communication through a central office to managers on site, and including an audit trail to keep projects moving forward on time and on budget.
Topcon Positioning Group has synced its data converter service, Magnet, with Autodesk's Point Layout software, allowing users to combine and customise 3D design data, for use on the jobsite.
Conexpo visitors will be able to see the system in action that Topcon says creates a more seamless transition from the planning and design process through to the in-the-field work.
Another tech giant showing at Conexpo is Hexagon, which will have a range of solutions on show across numerous fields, including augmented reality, autonomous vehicles, BIM, drones and a wide range of imaging products.