Technology to advance efficiency of Caterpillar wheeled loaders
By Catrin Jones13 February 2023
Caterpillar has announced that the new 950 and 962 Next Generation wheeled loaders will feature standard technologies that are said to boost operator efficiencies, provide consistent bucket fill factors and increase productivity by up to 10% over the previous models.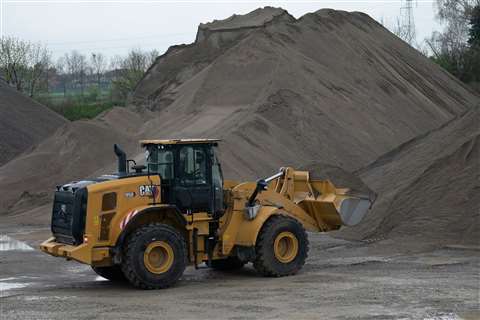 The loaders also offer application-specific designs to excel in tough applications, while service intervals are extended to lower maintenance costs by up to 30%.
Caterpillar says that a range of standard technologies on the 950 and 962 wheeled loaders efficiently monitor, manage and enhance job site operations.
Cat Payload with Assist displays data in real-time to improve productivity and loading efficiency whilst the operator can fully automate bucket loading using the new Autodig function to improve fill factors and loading times.
The high bucket fill factors provided by the new Autodig with Auto Set Tires deliver up to 10% more productivity for the 950 and 962 compared to the previous models says the company. Single clutch and lock-to-lock shifting of the five-speed transmission offers faster acceleration and speed on grades.
The new 950 and 962 come standard with a rear-vision camera to enhance visibility behind the loader and work safely. All-around visibility is achieved through the cab's floor-to-ceiling windshield, large mirrors with integrated spot mirrors and a rear-vision camera.
Additionally, the optional multiview (360-degree) vision system, Cat Detect radar technology, an access light and an under-hood service lighting system are available to further enhance safe operation and maintenance.