Telehandler sales save JLG results
By Lindsey Anderson30 October 2019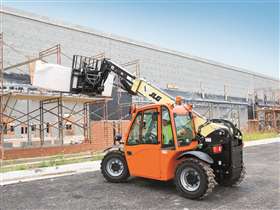 JLG's fourth quarter results showed a decline of -4.2% in total access sales to $1.02 billion with AWPs being hit hardest with a decrease of -13.8%. Meanwhile, a robust telehandler market increased fourth quarter unit sales by 7.98% to $307 million. The company's full year results showed an overall decline in AWP sales of -3.62% to $1.94 billion while telehandler sales soared by 32.24% to $1.25 billion. Overall, net sales for JLG's total access division did see an increase of 8% to $4.1 billion.
Wilson Jones, president and chief executive officer of Oshkosh Corporation, JLG's parent company, said, "Our access equipment team delivered strong results in the face of moderating demand in their key rental equipment markets.
"Looking ahead, I am confident in our team's ability to navigate through changing market conditions in our access equipment segment and position Oshkosh Corporation to continue to deliver strong results. Our rental equipment customers in North America and Europe are taking a cautious approach to capital expenditures, which we believe will lead to lower, but still historically strong, sales and earnings in the access equipment segment in fiscal 2020.
JLG said the decrease in fourth quarter AWP sales was due to lower sales volume in the Europe, Middle East and Africa region.
Access equipment segment operating income in the fourth quarter of fiscal 2019 decreased 0.3% to $126.5 million, or 12.4% of sales, compared to $126.9 million, or 12% of sales, in the fourth quarter of fiscal 2018. The decrease in operating income was primarily due to the impact of the lower sales volume and higher marketing spending, largely offset by favorable regional mix and lower freight costs.
Access equipment segment results for the fourth quarter of fiscal 2018 included pre-tax charges and inefficiencies associated with restructuring actions of $1.3 million. Excluding these charges and inefficiencies, adjusted operating income was $128.2 million, or 12.1% of sales, in the fourth quarter of fiscal 2018.
Oshkosh reported full year sales for fiscal 2019 of $8.38 billion and net income of $579.4 million, or $8.21 per diluted share. The company is projecting net sales between $7.9 billion and $8.2 billion for 2020.