Telehandlers: Raising the bar
By Thomas Allen03 April 2018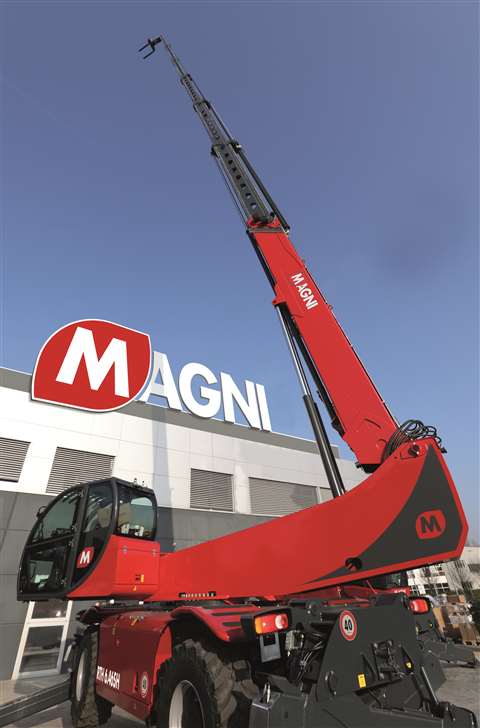 Telehandlers are particularly popular pieces of equipment in Europe, where their versatility and flexibility is taken full advantage of.
One minute they can be used to pick and place objects, and then the next minute they can be masquerading as an access platform or a crane, depending on what attachment is being used.
Testament to the robust demand for telehandlers across the continent – and particularly in the UK and France – Magni established two new subsidiaries in 2017. These are Magni Telescopic Handlers UK and Magni TH France, set up to serve customers better in those regions, with regard to both sales and aftersales.
The year was also marked by Magni's launch of the RTH 5.21 SH, RTH 5.23 SH, RTH 5.25 SH, RTH 6.26 SH, RTH 6.30 SH, RTH 6.35 SH and RTH 6.39 SH.
These models represent an evolutionary step forward from the previous Smart S and S models. In particular, the upgrade concerns an increase in machine capacities, which was achieved by focusing efforts on improving two of the macro components – the stabiliser and the boom.
In the case of the stabilisers, Magni developed new ones with a greater proportion of high elastic-limit steel. This allows the stabilisers to withstand greater strain.
With regard to the boom, the material used was also upgraded to a better high elastic-limit steel and holes were applied to the structure, once again enhancing strength, as well as making maintenance easier.
All together, the improvements made on these models were said to add up to between 30 and 40% increases in capacity, compared to the previous models.
The features and cab comforts that are common to Magni's RTH range come as standard. These include 360° rotation, a pressurised cab with inlet air filtration, a touch-screen display with integrated diagnostics, an hydraulic load-sensing circuit, automatic attachment recognition, and automatic levelling.
Looking ahead, at the Intermat exhibition, taking place in Paris, France, in April 2018, Magni will be introducing its new seven-tonne RTH 8.25 SH rotating telehandler.
With the ability to lift 4.8 tonnes at a height of 25m and 0.9 tonnes at a height of 21m, the RTH 8.25 SH was said to be the highest-capacity rotating telescopic handler in the world. And this has been achieved while maintaining the model's compact dimensions and low weight of 21.7 tonnes.
The RTH 8.25 SH is built on the chassis of the 35/39 machine, but with major structural components reinforced to achieve a high capacity.
Also on display at Intermat – and introduced to the European market for the first time, will be Magni's RTH 6.46 SH telehandler.
With a maximum working height of 46m, it was said to be the highest rotating telehandler in the world. At this height, it has a maximum lifting carrying capacity of 2.2 tonnes. For this reason, it was said to be comparable to a 45-tonne crane while keeping the flexibility of being lighter and more compact.
Magni said that it had optimised the telehandler's weight and dimensions in relation to its performance by the clever use of materials.
Powered by a 170kW Mercedes engine, the RTH 6.46 SH can perform three different main functions. Equipped with forks, it can operate as a telescopic handler; fitted with a basket, it can be used as an access platform; and with a winch installed, it becomes a crane.
With these new products in its portfolio, Magni foresees significant sales growth in the UK, North America and a number of Asian countries in 2018.
High-rise work
Another manufacturer of telehandlers, Manitou, also released new models in 2017, when in June, the company unveiled the MRT 3050 and the MRT 2470 rotating telehandlers, saying they were to complement a wide range that was suited for high-rise construction work.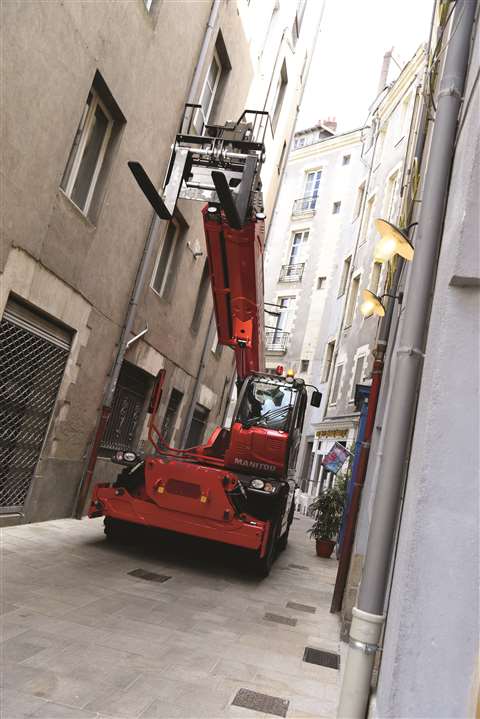 To meet the particular needs of the European construction market, the MRT 3050 is offered with a lifting capacity of 5 tonnes and a maximum height of 30m.
It also has stabilisers that extend to a deployment length of 6.25m for greater stability, and they are now fitted with a strain gauge system that can more accurately detect the pressure of the stabilisers on the ground. The user is also able to check the extent of deployment via a dashboard display.
Equipped with a two-ratio hydrostatic transmission, the MRT 3050 has a top speed of 40km/h, and access for maintenance has been made easier for improved safety.
The telehandler is powered by a 131kW Final Tier IV-compliant Mercedes engine, and it was said to have a range of applications, from roofing to structural steelwork.
Meanwhile, the company's MRT 2470 was said to be the first rotating telehandler that had a load-bearing capacity of 7 tonnes at a height of 24m. This makes it particularly suitable for heavy high-rise construction.
The engineering office of the group's Italian subsidiary based in Castelfranco collaborated with the marketing teams to develop this
new product.
Like the MRT 3050, the MRT 2470 has a new chassis. It also has a newly-designed counterweight, which enables it to remain stable when carrying the maximum load
at 24m.
With its hydrostatic shift-on-fly transmission option, this model allows the operator to choose between a manual or automatic gearbox. With two ratios, the top speed of the MRT 2470 is 40km/h.
Access to the cab has been made easier by the introduction of a wider footboard that is aligned with the cabin. In addition to this, there is the option for an electronic stairway with an extra step that slides out when the stabilisers are deployed. This means that the machine can be raised 23cm when the stabilisers are fully deployed, without inhibiting access to the cab.
For indoor applications, a dual-energy engine with an electrical system is also available as an option. This keeps noise pollution and polluting gas emissions to a minimum, while also reducing the total cost of ownership.
Also, the new strain gauge system and stabilisers on the MRT 2470 and MRT 3050 earned Manitou the Equipment & Material prize in the Components & Attachments category in this year's Intermat Innovation Awards.
With regard to new attachments, Manitou has developed a continuous rotation fork carriage CAT 1200/4000 R. With its 360° rotation, this attachment was said to increase productivity by reducing movements when handling, facilitating the placement of
long loads.
The group has also introduced a new aluminium extendable rotating aerial work platform basket, the PSE 4200/365 ALU, intended for its MRT telehandlers. By using aluminium for the whole body of the basket, a weight saving of 150kg has been made, while maintaining a loading capacity of 365kg, including three people.
Compact model
Another recent launch was that of the new TL30.70 compact telehandler from Bobcat.
Providing a maximum lifting capacity of three tonnes and a maximum height of almost 7m, it was designed to be a versatile machine that offered an alternative to larger 7m models, especially where working spaces are tight and greater manoeuvrability is required. Applications might include pick-and-go or lifting materials to height on housing and commercial property developments.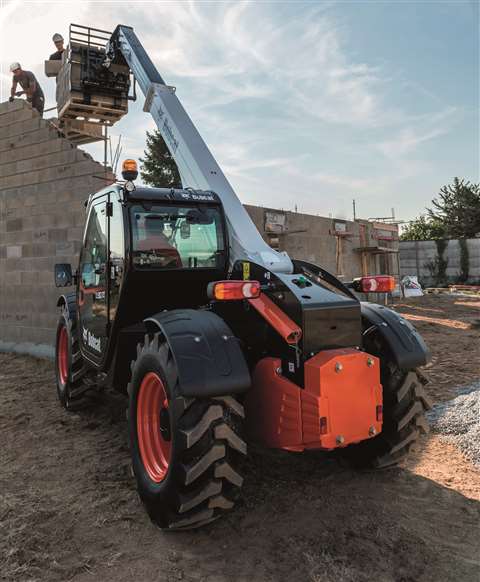 In terms of performance, the TL30.70 offers a maximum reach of 4m with a load of more than 1 tonne, and at the maximum lift height, users can carry up to 2 tonnes of weight – sufficient to place a pallet of bricks in most conditions.
Similarly to the existing TL26.60 and TL30.60 telehandlers in the Bobcat range, the TL30.70 is available with a cab that can be mounted in two different ways to give two different overall machine heights. The low position gives a total height of 2.1m, while the higher position optimises visibility. The cab is also suspended to enhance ride comfort.
As with all Bobcat telehandlers, the TL30.70 has a heavy-duty hydrostatic transmission that was said to allow smooth and precise low-speed travel, as well as the ability to go faster or work harder when required.
The Bobcat auto-shift transmission automatically adapts the motor torque and speed to the desired level for the job.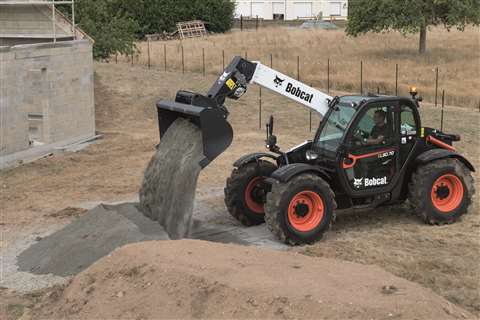 To ensure that the telehandler is appropriately matched to the customer's application, there is a choice of two different versions of Bobcat's D34 diesel engine.
On the one hand, the 55kW Stage IIIB-compliant engine offers cost-efficient operation because it does not require SCR (selective catalytic reduction) and AdBlue, and it was said to offer up to a 15% reduction in fuel consumption over typical work cycles in the construction industry.
On the other hand, the 75kW Stage IV-compliant engine provides more power for heavier operations with its DEF (diesel exhaust fluid) injection aftertreatment technologies.
Scaling right down in size, Ausa has its Taurulifts range, which comprises three compact models – the T144H Plus, T204H and T235H – which the company said were designed for use outdoors on steep terrain and in areas that are difficult to access and offer restricted space for manoeuvring.
The smallest model, the T144H Plus, weighs 2.4 tonnes, measures 1.4m wide and offers a total lifting height of 4m. It was said to be the only telehandler on the market in the 0.9 and 1.4 tonne category – with a lifting capacity of 1.35 tonnes – that can be placed on a traditional trailer, making it easy and cost-effective to transport.
The T204H is in the 1.8 tonne category and has a lifting height of 4.4m, while the T235H is in the 2 tonne category and offers a lifting height of 5m. Both have a width of 1.6m.
This new range of telehandlers has been designed for fragile and soft surfaces because their reduced weight and wheel rotation keep erosion of surfaces to a minimum.
Comfort and safety were also key concerns in the design of the Taurulift range. The cab has been placed as far forward as possible so as to provide the operator with 360° visibility, and the telescopic arm has been offset to one side to allow more space to be created in the cab.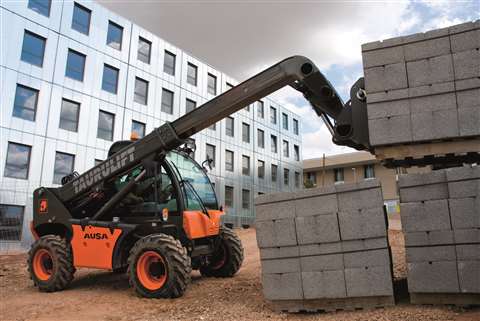 The hydrostatic transmission with permanent 4x4 traction patented by Ausa as HET (high-efficiency transmission) on the T144H Plus model, and the 4x4x4 on the other two models, has made it possible to use a chassis use a chassis with high ground clearance for rough terrain.
Rough-terrain
At the World of Concrete 2018 exhibition in Las Vegas, US, Snorkel debuted a new compact telehandler for the US market, the SR5719.
However, in the rest of the world, this same machine is being introduced as the SR626 compact rough-terrain telehandler.
The Snorkel SR626 can lift a load weighing up to 2.6 tonnes and can reach heights of up to 5.8m with a maximum forward reach of 3.2m. It was said to be an ideal lift for contractors as it can be transported easily and has been designed to deliver a high level of operator comfort.
Powered by a 52.4kW Tier 4 Final Yanmar diesel engine, the Snorkel SR626 weighs 4.7 tonnes. And once again, compact dimensions are an important feature. This is important for machines that are intended for use in tight spaces, such as on construction jobsites or in rental applications.
Snorkel's new telehandler comes with a five-year structural warranty, plus a two-year warranty for parts and labour.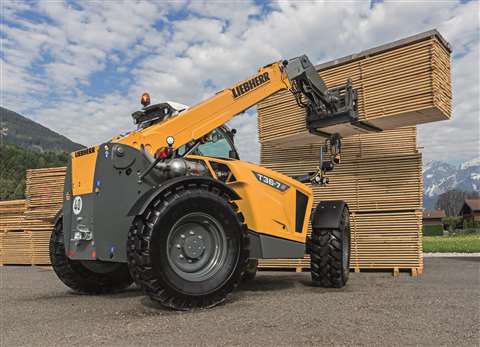 Looking ahead to 2018, Liebherr has said it will launch eight new telehandler models in a total of 26 different versions over the course of the year.
They will be available in two new model lines – the top-of-the-range models for materials handling or production applications, and the simple, cost-optimised value models for stacking and lifting applications.
In January, Liebherr started producing three 7m models with a load-bearing capacity of 3.2 tonnes, 3.6 tonnes and 4.1 tonnes, a 6m model with a load-bearing capacity of 3.5 tonnes, and a 10m model with a load-bearing capacity of 3.3 tonnes, at its manufacturing plant in Telfs.
These will be followed by two additional 7m models with a load-bearing capacity of 4.6 tonnes and 5.5 tonnes. Finally, a 9m model with a load-bearing capacity of 6 tonnes will complete the range for the time being.
In the new range of telehandlers, Liebherr is using Stage IV-compliant Deutz diesel engines that have been optimised in terms of performance and fuel consumption, and have a displacement of 3.6 litres at 74 or 100kW and a displacement of 4.1 litres at 115kW.
The new telehandlers have a top speed of 40km/h, but are available with speed limits of 20 or 30km/h.
The Liebherr hills assist, which is installed as standard, was said to ensure safety and maximum driving comfort when travelling over uneven ground thanks to the automatic activation of the parking brake.
Visibility has also been maximised on the new range, the company said.
Before its official market launch, the new T46-7 model won two design awards. The German Design Council has awarded it the German Design Award 2018 in the transportation category for its good visibility and dynamic appearance. Liebherr said that its T46-7 model also won the Red Dot Product Design Award for 2017.