Telescopic launch from CTE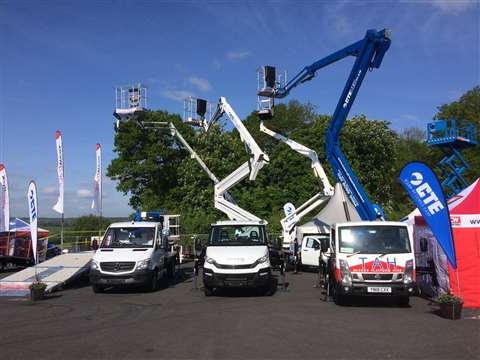 CTE launched its CTE B-Lift 20J on a Nissan Cabstar last week.
The 19.8m working height truck mounted telescopic platform with jib was launched at Vertikal Days, in the UK. The unit offers 14.7m outreach, 300kg capacity and the manufacturer's S3 Smart Stability System.
Other recentlly-launched products on the stand, this time with articulated booms,were the 20m working height CTE Zed 20.3 A+H, mounted on Mercedes Sprinter. The new stabilization configuration consists of front A frame stabilizers - to provide more stability, due to a longer cab, and rear H stabilizers - to save space on site. A new 23m working height CTE Zed 23.3 JHV, mounted on Iveco Daily was there too.
Also on the CTE Stand was the recently-launched CTE Zed 21.3 JH, mounted on a Nissan Cabstar. It has been purchased by TAH Access Platforms UK and boasted the customer's livery. The off road CTE Zed 15.2, mounted on an Isuzi pick-up rounded off the display.