Terex AWP sends JLG letter of concern over possible patent infringement
By Lindsey Anderson07 March 2014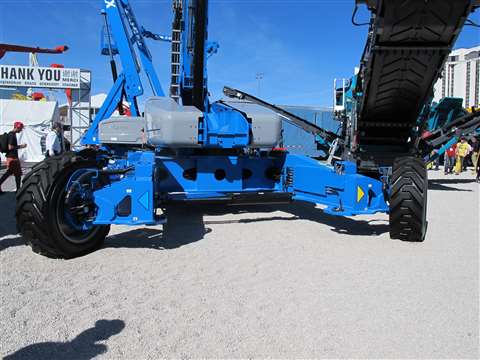 Terex Aerial Work Platforms has sent JLG Industries, Inc. a notice of possible patent infringement for the design of JLG's chassis on its new 185-foot boom lift, Access, Lift & Handlers has learned.
"I can't go into a lot of detail about it, but you can probably look at [JLG's 1850SJ chassis] and see there are a lot of similarities [compared to the Genie SX-180]," Brad Allen, vice president of marketing, product management and engineering for Genie, told ALH at ConExpo. "Our patent was originally applied to the ZX-135 back in 2006. We've maintained the design aspect of that with our 180."
Both boom lifts use an X-shaped chassis to achieve stability while making transportation easier. Terex AWP is concerned with the similarity of the designs.
"The X-chassis provides a significant advantage …. over extending axles," Allen said.
Terex AWP's 180-foot SX-180 debuted at Bauma 2013 in Munich. JLG used ConExpo 2014 to showcase its new – and 5-foot-further-reaching – 1850SJ.
In February, Terex AWP sent a "very respectful letter," Allen said, to JLG "saying that it looks like their [1850SJ chassis] covers the same technology [as our SX-180's]."
Alan Loux, vice president of marketing for JLG, said the company received a letter from Genie "expressing concern that they believe is a potential infringement on a patent," Loux told ALH. "We take these matters very seriously and we are evaluating, but we are confident we have not infringed on any patents."
JLG filed its own patent in September 2013 for its X-styled chassis. "We have patents pending so we are confident we haven't infringed on any patents," Loux said.
Terex AWP's Allen said as of today, he is not aware of any response from JLG.