Terex Utilities expands range
By Leila Steed04 June 2019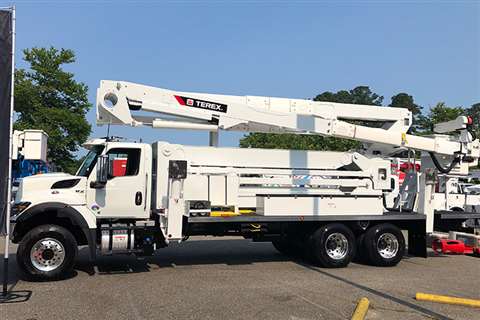 Manufacturer Terex Utilities has expanded its TL Series range with the launch of three new models.
The three new truck-mounted insulated telescopic platforms are designed for transmission work.
The TL80, TL100, and TL80/112, which provide 24 m (80 ft), 30 m (100 ft) and 34 m (112 ft) working heights, respectively, were launched yesterday at the 2019 Electric Utility Fleet Managers Conference in Virginia, USA.
The specialist utility devices all feature self-levelling platforms capable of 180 degree rotation, and an end-mounted two-person platform with a maximum capacity of 317 kg (700 lbs).
While the TL80 and TL80/112 have an optional side mounted platform with a jib capacity of up to 907 kg (2,000 lbs), the TL100 has a horizontal reach of 18.5 m (61 ft) and a capacity 453 kg (1,000 lbs).
According to the manufacturer, the TL80 and TL80/112 have a fibreglass lower boom insert and an upper boom that allows the Category B Dielectric units to be rated for 138 kV work. The TL100 can be rated up to 69 kV.
All three models feature the same levelling cylinders and both the TL80 and TL110 use the same upper boom rest. In addition, the TL80's lower and upper booms use the same cylinder, as does the TL100.
The TL unit platforms can also be lowered to within inches of the ground. "This makes it easier for line workers to hand off tools and clean out debris in the platform. It also aids personnel rescue," said Balaji Dhondiba, Terex Utilities Engineering Manager for Aerial Products.
According to the company the TL80 can also be mounted on lower GVW chassis than traditional transmission units, which gives fleet owners greater flexibility when it comes to budget management. Dhondiba said, "Not only is this less expensive to purchase than a tri-axle chassis, it also costs less to maintain over the life of the vehicle."