Teupen first delivery for Joly
By Euan Youdale14 October 2019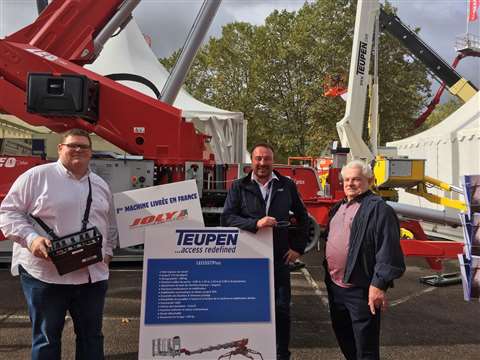 Joly Location has taken delivery of the first Teupen LEO35Tplus track mounted platform to be delivered in France.
Located in Couternon, near Dijon, Joly Location provides a large range of Teupen spider lifts from 13m to 40m working height. The new LEO35Tplus, was delivered during the JDL access exhibition, which took place in France last month. It provides a maximum outreach of 17m, or 13m with the platform's maximum capacity of 400kg.
Lionel Joly, the company's CEO, said, "This new telescopic spider lift is the perfect compromise between the weight, 5,400kg, the platform capacity, 400kg, and the size of the platform, up to 2m. Thanks to the large platform, two customers can work from the platform, in addition to the operator.
"The memory function offers strong advantages as I can move back to the stored position at any time. This is very useful e.g. when working on power lines."