The Big One
By Lindsey Anderson06 March 2020
North America's largest construction tradeshow returns to Las Vegas this year – and it is bigger than ever. From new equipment to technological innovations, visitors can expect to experience first-hand what the industry has to offer.
Whether it's your first or 10th ConExpo, all attendees should prepare for 2020's major layout change. New this year is the addition of the Festival Grounds, which is estimated to span 1.5 million gross square feet and will be home to many – if not most – access, telehandler and crane exhibitors. The Festival Grounds replace the under-construction Gold Lot, and will be accessible via shuttles, golf carts, pedicabs and the Las Vegas Monorail.
"The Festival Grounds provides exhibit space and show services that our exhibitors and attendees will be very pleased with," says Dana Wuesthoff, the Association of Equipment Manufacturers' vice president of exhibitions and event services and show director. "We wanted to make sure everyone can explore the entire show and have the best possible experience."
Equipment on display
From new scissors and boom lifts to telehandlers and telematics, manufacturers will be rolling out their latest innovations. While some might reach new heights, others will focus on the electrification and hybridization of equipment. Visitors should also expect to see an array of technological advancements on display as manufacturers embrace state-of-the-art ways to track, manage and maintain equipment and fleets.
Our guide to North America's largest tradeshow is broken down by product type to make searching easier. Where companies have more than one product category, they are listed in their relevant sections. Please refer to the show map for location information.
Boom lifts
Dinolift Oy, F3178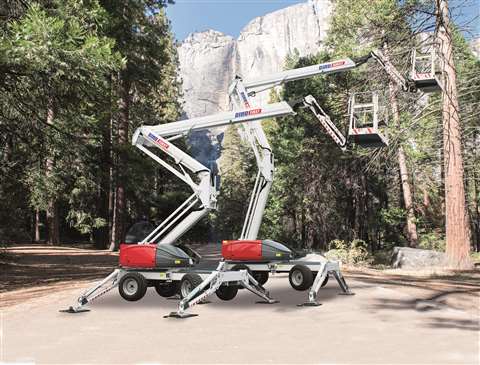 Dinolift Oy, the Finnish manufacturer of Dino mobile elevating work platforms, is showcasing its latest models, the Dino 92RXT and Dino 72RXT.
The Dino 92RXT features a completely new boom design with ultra-high strength steel construction. The 72RXT has a non-restricted outreach of 39 feet with a safe working load of 507 pounds and the 92RXT features 42 feet of outreach at 500 pounds and 52 feet at 265 pounds. The 72RXT has a working height of 72 feet and its bigger sibling, the 92RXT, features 92 feet of working height.
All Dino self-propelled RXT units come standard with continuous 360-degree boom rotation. The RXT series has a hydraulic 180-degree basket rotation as standard with a 140-degree flyjib. The RXT line features Kubota engines and 4-wheel drive systems that include hydraulic flow distribution valves between axles and individual tires to create differential lock type effect controlled by the operator in the basket. The front axle is self-oscillating with a range of motion of 16 degrees and the unit features gradeability of 40 percent. Automatic chassis levelling is standard enabling easy self-level in a slope up 8 degrees side to side or front to back.
Genie F7376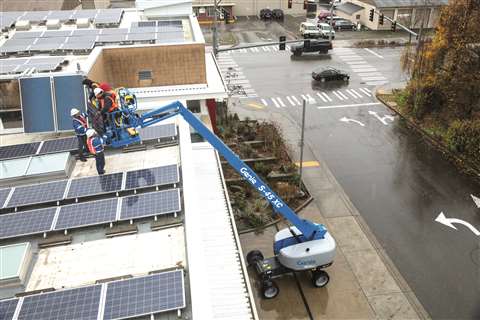 Genie will showcase its range of boom lifts, including the company's XC, High Float and TraX offerings.
Genie's XC nomenclature stands for Xtra Capacity, and the booms feature a dual-envelope design to provide an unrestricted platform capacity of 660 pounds and a restricted capacity of 1,000 pounds. Visitors can expect to see the S-40 XC and S-45 XC models at ConExpo. The new Genie S-40 XC and S-45 XC units are equipped with a load sense cell that continuously checks the weight in the platform and limits the operating envelope to match the load chart, all while boasting the ability to do zero load field calibrations. The units are engineered with a redesigned boom structure that boasts increased performance, range of motion and envelope control, as well as a robust jib on the Genie S-45 XC model that is capable of handling the 1,000-pound maximum capacity.
The Genie XC telescopic booms also come equipped with a chassis tilt sensor incorporated into the machines' function. The technology in this new sensor is engineered to automatically cutout certain lift and drive functions of the machines when the tilt activation setting is reached.
Genie will also highlight its booms designed to perform in sensitive ground conditions, such as sand and turf. The Genie High Float (HF) and TraX boom lifts have been added to the Genie product lineup, including the Genie Z-45 HF, S-40 HF, S-45 HF, S-60 HF and S-65 HF booms, as well as the Genie S-40 TraX, S-45 TraX, S-60 TraX and S-65 TraX machines. All of these Genie models are based on the design and engineering of the Genie Xtra Capacity (XC) booms, complying with the platform load sensing requirements and terrain sensing guidelines in the new ANSI A92 and CSA B354 industry standards in North America, as well as European EN280 and Australian AS 1418.10 standards.
These new Genie HF and TraX booms are now available in North America and will be available in select regions of the EMEAR market (Europe, Middle East, Africa and Russia) in 2020, pending CE certification and country-specific regulations approval.
Haulotte F6134
Haulotte will display its brand-new telescopic boom, especially designed for the North American market. This boom completes Haulotte's telescopic product family which includes the 67-, 80-, 85- and 132-foot booms. Haulotte will also display the recently launched HA61 LE PRO, the first model of the PULSEO Generation, Haulotte's line of all-terrain electric MEWPS. The Optimum 1931 AC scissor lift and the Star 20 vertical mast will also be displayed; these are two of Haulotte's best-selling products.
IPAF F9100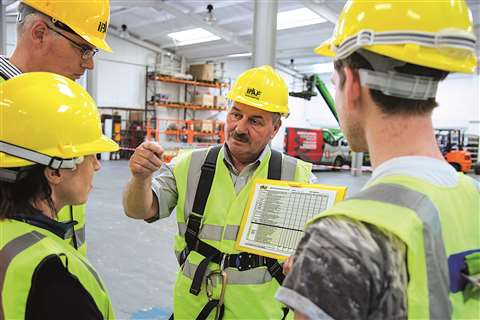 Visitors can join IPAF at ConExpo for a unique opportunity to take IPAF's new course for MEWP supervisors. It is now a requirement in the updated ANSI standards that companies that use MEWPs must designate a person to monitor, supervise and evaluate operators on a regular basis to ensure their proficiency and these individuals must receive MEWP supervisor training.
This course covers what supervisors need to know regarding the rules, regulations and standards that apply to MEWPs for their safe and effective use, including selecting the right equipment, compliance with manufacturers' operator manuals and mitigating all possible risks from potential hazards.
The course is free of charge but availability is limited. It will be held March 8 and 9 from 12:30 p.m. – 4:30 p.m. (one four-hour session each day, limited to 20 people per session) at the Westgate Hotel – Conference Room 13.
JLG F5324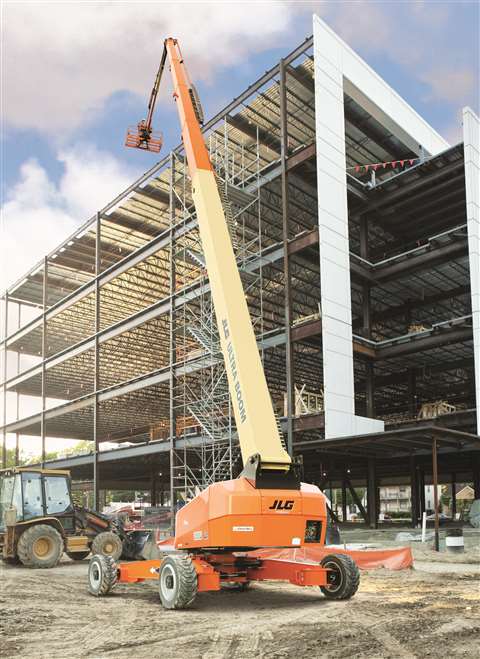 JLG plans to "elevate access" at ConExpo. JLG will unveil the next generation of equipment designed to "maximize productivity like never before, thanks to industry-leading equipment and technical innovations," according to the company. From connected solutions – like the new JLG suite of advanced telematics tools and virtual reality training – to the latest in telehandler, scissor, boom and low-level access technology, visitors can expect to "experience the future of productivity, technology and safety."
Manitou F4458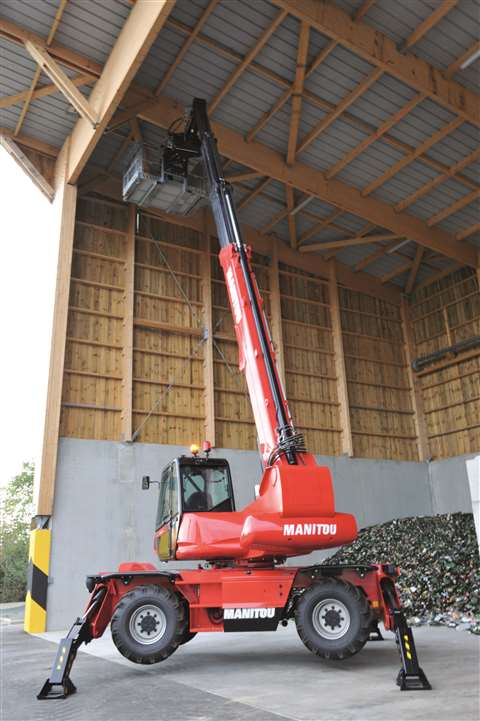 Manitou will introduce two new MEWP models for the North American market at ConExpo. The TJ line of straight booms has platform heights of 65, 80 and 85 feet and offer unrestricted – or restricted – platform capacities.
The new TJ 65 has a platform height of 64 feet, 10 inches, 500 pounds of unrestricted platform capacity and 57 feet and 10 inches of horizontal outreach. Its sibling, the TJ 65+ has a platform height of 64 feet, 9 inches, a horizontal outreach of 58 feet, 4 inches and an unrestricted capacity of 900 pounds.
Next in line is the TJ 80+ which has a platform height of 78 feet, 5 inches, horizontal outreach of 64 feet, 8 inches and 900 pounds of unrestricted capacity.
The tallest of the group, the TJ 85, has an 84-foot, 6-inch platform capacity with 770 pounds of restricted capacity and 530 pounds of unrestricted capacity. It achieves 70 feet, 4 inches of horizontal outreach and also features a 12-foot, 5-inch telescopic jib.
The TJ models feature hydraulic, proportionate controls for smooth operation; continuous 360-degree turret rotation; front oscillating axles; replaceable galvanized platform flooring; four-wheel drive; three steering modes; and self-diagnostics via a ground control panel.
The company will have more than 22 models on its stand, including new telehandlers and more.
Platform Basket F6815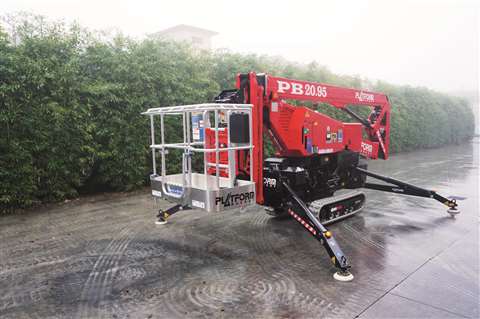 Platform Basket will unveil its brand-new Spider 20.95 ED. It features 551 pounds of basket capacity and an unrestricted working diagram. The unit features 31 feet of outreach and 26 feet of up and over clearance.
The Spider 20.95 ED weighs under 6,000 pounds making it easy to transport. It is equipped with a diesel engine and lithium batteries. The unit also features radio remote controls, double speed driving, basket rotation and diagnostic display as standard features.
ReachMaster, Inc. F5836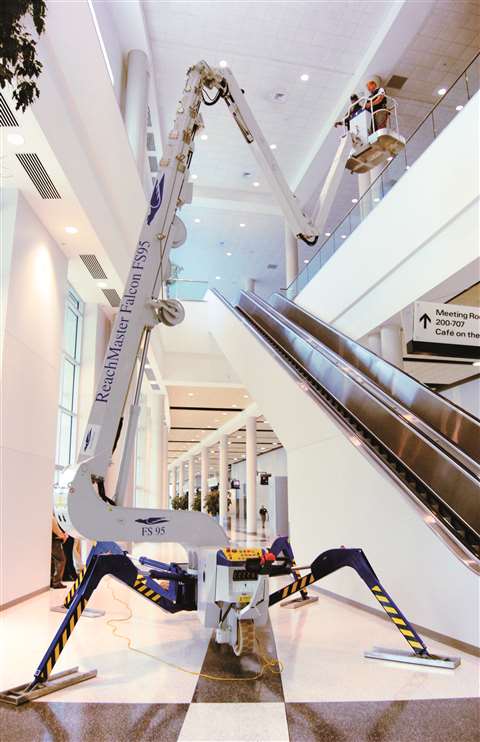 ReachMaster, Inc. will show a representative display from its wide portfolio of specialty equipment.
From the ReachMaster Falcon line, the best-seller Falcon FS95 now comes standard with an anti-entrapment safety system – attendees can see the unit firsthand at ConExpo.
From Bluelift, ReachMaster will also show the new B35EB which can transform down to a compact format of only 7 feet, 8 inches long and 2 feet, 6. inches wide, allowing it to fit normal elevators in shopping malls, hospitals, office buildings and other multi-story buildings. Additionally, the EB stands for elevator basket, a new feature that allows the unit to provide safe work position below level.
The Bluelift B101, the tallest unit in the Bluelift line up, will also be on display. It features a 101-foot working height with 56 feet of horizontal outreach.
Also, the new compact RT boom lift from Almac in Italy will also be shown. The Jibbi-40BL-EVO is another first of its kind, a compact, track-based, all-terrain boom with bi-leveling features and ability to drive and setup in uneven terrain without use of outriggers.
Skyjack F6014
Skyjack is bringing a full fleet of A92.20 compliant machines to the show.
Visitors can expect to see a new lineup of high-capacity booms that include features driven by, but go beyond, ANSI standards and include Secondary Guarding Electrical (SGE) as standard. The booms will also boast increased capacities along with dual capacities pn most models. The SJ66T+ will be on stand at North America's largest construction trade show and features the largest changes and newest features.
Updates to Skyjack's DC scissor lifts, rough terrain scissor lifts and booms can also be seen.
Snorkel F6962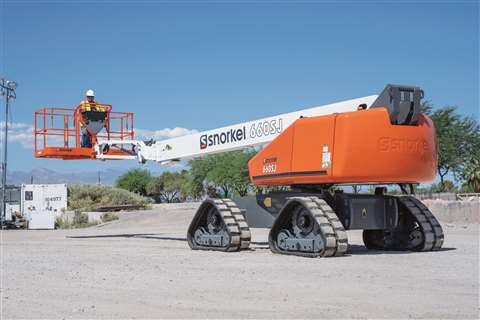 Snorkel says it is "going big" at ConExpo with a number of new, industry-first product launches across multiple categories, including further developments in its lithium-electric range, alongside the official global launch of the new lithium-electric Speed Level, which is now in full UK production.
Alongside new products, Snorkel will be showcasing innovations on existing products including a tracked drive option for its family of mid-size telescopic boom lifts.
Teupen BL1000
Teupen will show three of its units at the show, including the Leo105AJ (articulating with jib), Leo86SIC (Leo86 straight boom insulated C) and the TL54AJ battery (articulating with jib.)
Scissors
Genie F7376
Genie's new GS-4655 slab scissor lift will be on display. Designed to meet global demand for indoor and outdoor high-height and narrow-access applications, the new unit is the latest addition to the brand's large electric slab scissor lift family.
Adhering to the new ANSI A92 and CSA B354 standards in North America, the new Genie GS model comes in a compact, lightweight package that combines increased battery runtime and fully sealed AC electric motors for maximized productivity and drive efficiency. The Genie GS-4655 scissor lift is spec'd for use on jobsites globally, complying with load sense requirements, as well as indoor and outdoor use ratings, in ANSI, CSA and CE markets.
The AC electric drive system replaces traditional hydraulic drive motors and reduces the number of hydraulic service points. Boasting "go anywhere" capabilities, the heavy-duty front-wheel electric drive motors are fully sealed. The unit features 25 percent gradeability and a 14-degree breakover angle.
The Genie GS-4655 unit also features the Smart Link control system that includes proportional lift and drive functionality that allows for precise controllability and smooth handling characteristics.
Visitors can also view three productivity tools for Genie's scissor lifts – the Lift Tools Work Tray, Pipe Cradle and Panel Carrier accessories.
LGMG North America BL606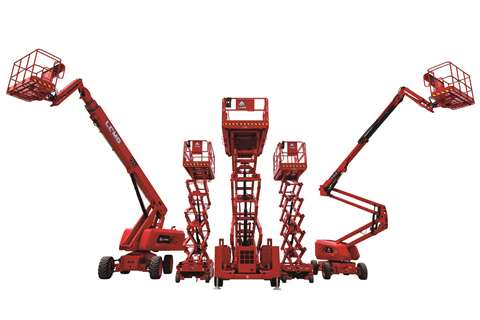 LGMG is debuting several new models at ConExpo. LGMG will be displaying its full SS (Short Scissor) series with platform heights of 12 feet, 14 feet and 19 feet. "These machines are shorter in length than a standard scissor as well as being lighter because they were designed to fit into service elevators and tight indoor spaces," the company says. The company's most popular indoor/outdoor electric scissors will also be on display including the AS1932E and AS3246E with platform heights of 19 feet and 32 feet respectively.
In addition to the electric scissors which debuted in 2019, LGMG will be bringing its brand-new rough terrain scissors, articulating booms and telescopic boom that are available in North America.
The A45JE is an electric articulating boom and will be displayed opposite the AR52J which is a diesel-powered articulating boom. The company will be showing its rough-terrain SR4069E electric scissor that is 4x2, and the SR5390D diesel rough-terrain scissor which is 4x4.
"The most exciting machine on display is our T65J diesel telescopic boom as this will be the first time it is seen in North America," the company told ALH.
MEC Aerial Work Platforms F5825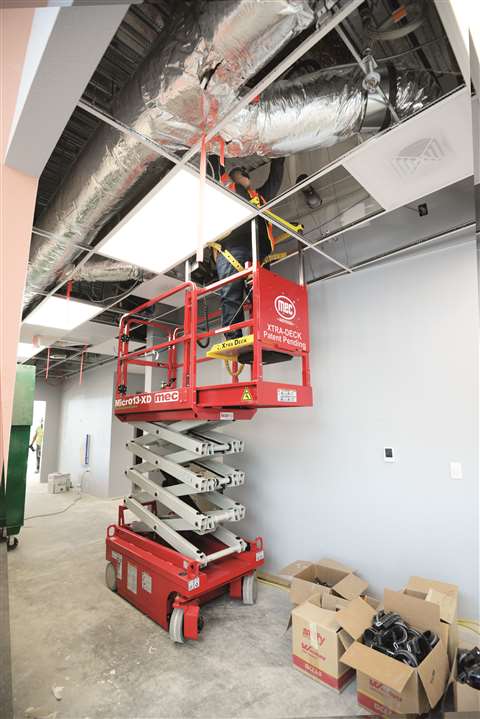 MEC's newest innovations will feature its latest portfolio of slab scissors, rough terrain scissors and boom lifts. Its expanded DC drive line consists of 10 slab scissors ranging from the 13-foot Micro13-XD to the 45-foot 4555SE. MEC's RT scissors will be represented with the 4069RT scissor, 3084RT SpeedLevel Sigma Lift and 6092RT Ultra Deck Scissor. The company will also have its 34-, 45- and 65-foot straight booms, 45-foot articulating boom and Titan 60 on its stand. Visitors can also learn about the company's award-winning, patented and patent-pending features such as the Xtra Deck, micro scissors, Leak Containment System, material sheet trays and Proactive Platform Safety System.
Pettibone N11265
Material handling specialist Pettibone announced its entry into the MEWP market with the debut of 13 scissor lifts earlier this year, with working heights from 18.4 feet to 46 feet.
Offered in electric or hydraulic drive configurations, Pettibone's ANSI A92.20-compliant lifts are designed for indoor or outdoor applications. Key features of the line include a universal drive control box with LED screen, platform extensions with foot pedal control, and large scissor arms for a high level of stability and durability. Pettibone will also show its new Traverse telehandler.
Telehandlers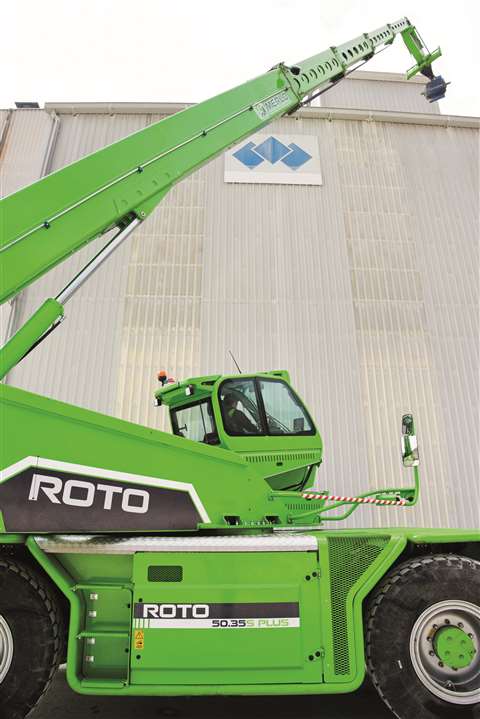 Applied Machinery Sales (Merlo) F5785, F5681
Applied Machinery Sales will have a range of Merlo telehandlers on its stand.
The high-capacity P50.18Plus panoramic telehandler features independent front stabilizers. The unit has a lift height of 58 feet, 5 inches, a reach of 44 feet and load capacity of 11,000 pounds. It also features independent, front axle-mounted stabilizers. The unit's stabilizers are designed to act independently of each other. On uneven ground, this feature ensures higher stability with continuous productivity. Additionally, the unit includes "Plug & Play" electronics, has a cab (FOPS and ROPS certified) with over 46 square feet of window, LCD screen and more.
Merlo's largest Roto available to the U.S. market will also be on display. The R50.35 S-Plus has a 15-foot lift, 96-foot reach and a maximum operating capacity of 11,000 pounds. It offers a 360-degree rotating turret with a tilt cab, new operational and safety software, integrated controls and new cab design. Merlo combined its safety systems into the Advanced Safety System (ASCS). The ASCS collects and analyzes, in real time, different machine parameters such as load position, stabilizer position, boom extension angles, turret, carriage rotation and load weight to create the load diagram. This data translates into a visual representation on the new LCD. Plus, the ASCS automatically recognizes and incorporates attachment information into the data.
Also on stand will be the P40.13 panoramic telehandler with a lift height of 41 feet, 2 inches, a reach of 28 feet, 3 inches and a load capacity of 8,800 pounds. The P40.13 offers high ground clearance, hydrostatic transmission, 102-hppDeutz engine, and the Merlo Tac-lock system for simplified attachment change out. The P40.13 is equipped with the Merlo MCDC, an operational safety software program. In real time, the MCDC automatically recognizes attachments, monitors boom extension, angle and load weight. The load diagram is displayed on a large LCD to guide the operator in efficient and safe machine operation.
Visitors can also see the P65.14HM panoramic telehandler and P27.6 Plus compact telehandler.
Magni F3459
Magni will break its own record when it introduces the RTH 6.51 SH telehandler. The RTH 6.51 is the highest rotating telehandler in the world with a maximum lift height of 167 feet along with a load capacity of 13,200 pounds. "It is the perfect solution for all construction or industrial sites requiring best-in-class lifting and reach capacities," the company said. Magni has developed dedicated solutions for increasing the length of hydraulic pipes and reducing pressure drops caused by the record heights that the RTH 6.51 can reach.
Manitou F4458
Manitou will have more than 22 machines on its stand, including its new MTA 12055. Manitou has debuted its MTA 12055 Series III telehandler that features a maximum lift capacity of 12,000 pounds, lift height of 55 feet 5 inches and can take 5,500 pounds to full extension.
"We had many customers looking for a Manitou telehandler that could handle construction materials that are larger than usual," said Steve Kiskunas, product manager of telescopic handlers, Manitou Group. "The Manitou MTA 12055 has a high capacity and lift height, combined with great forward reach, which makes it perfect for infrastructure, bridge and power generation projects, to name a few."
The Manitou MTA 12055 features a turning radius of 12 feet, 2 inches, and an exclusive single joystick control that allows operators to control boom extension and retraction, attachment tilt, auxiliary hydraulics and travel direction all on the same joystick.
The MTA 12055 is equipped with a 120-hp Cummins engine and four-speed powershift transmission, pushing travel speeds up to 22.8 mph. It has a side mounted engine and high boom mount. "This design gives operators excellent visibility over the top of the engine and easy access to maintenance components," Manitou said. Additional features include a maximum forward reach of 40 feet, 9 inches and standard four-wheel drive, frame leveling, auxiliary hydraulics and self-leveling forks.
Pettibone N11265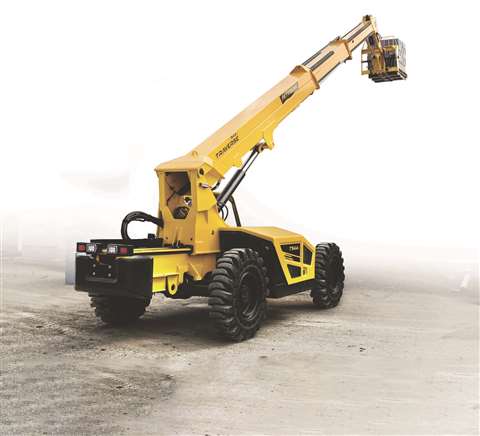 The Pettibone Traverse T944X will make its debut at ConExpo. The unit is aimed specifically at North America. A feature is its extendable, traversing boom that moves loads by traveling horizontally. The 9,000-pound capacity machine has up to 70 inches of horizontal boom transfer, allowing users to precisely place loads at full lift height through tight openings.
With the Traverse, the specified lift height of 44 feet, 6 inches is nearly identical to the 44-foot landing height. This is in contrast to a traditional fixed boom pivot, where the true landing height is generally several feet less than the advertised lift height, as operators must account for withdrawing the forks out of the load with enough rearward travel for the fork tips to clear the landing zone, according to Pettibone. The traversing boom allows for maximum forward reach of 35 feet, 10 inches.
Xtreme Manufacturing F6962
Xtreme Manufacturing will unveil several new telehandlers at ConExpo, expanding its product line to more than 20 available models with lift capacities ranging from 6,000 pounds to 70,000 pounds. The new models will bring greater commonality in design and provide customers with enhanced capacities, increased reach and extended choice in the 12,000 to 17,000-pound capacity range.
Xtreme will also be launching a change to its model nomenclature designed to help customers easily identify the carriage class for the machine. The new look model names will change from XR1570, for example, to XR1570-C.
MCWP/Hoists
AGF Access Group F3776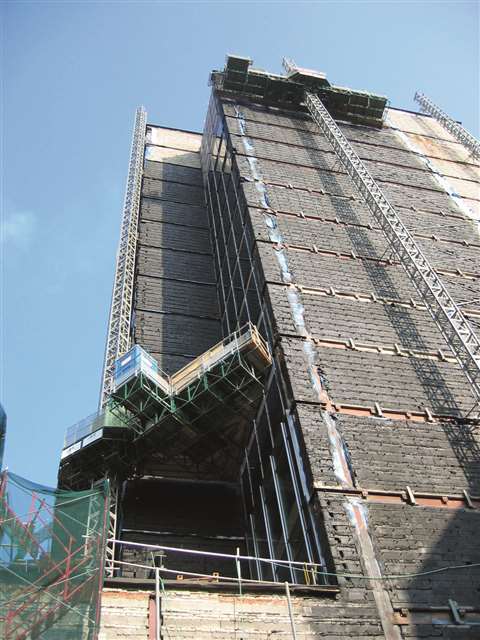 AGF Access Group will bring together two of its manufacturing divisions during ConExpo: mast climber manufacturer Hydro Mobile and suspended access solutions manufacturer Winsafe. Each will exhibit a variety of their top-selling products. The two manufacturers often combine their expertise to provide custom access solutions that can answer the simplest to the most complex need.
Hydro Mobile will bring the M2, a workhorse mast climbing work platforms, as well as a P-series, an electric S-Series and a gas-powered F-Series that features one half mast climber and one half transport platform.
Winsafe will exhibit its standard Super Mod system, temporary roof rigging equipment, and permanent access solutions such as a BMU, davit arm and anchors.
Technology and telematics
DPL Telematics S65509
DPL Telematics will debut its AssetCommand tool. AssetCommand is a tool for rental houses to increase asset profitability and productivity while decreasing the costs and risk of equipment theft and rollovers. According to the company, it is an industry-first solution that empowers the equipment owner to remotely shut down machines, wirelessly locate them any time via GPS, collect hour meter readings, track hour-based service intervals and receive real time alerts for tilting or rollover of the asset. Managers select the desired angle of tilt to match the alert with the applicable rental asset(s). Users can also receive alerts for loss of power, boundary or curfew violations to curb unauthorized use.
AssetCommand is palm sized, has no external antenna and contains an internal backup battery to continue operating the unit if disconnected. "Two standout, unique features for rental and lifts in particular include real time alerting for asset tipping or rollover which is especially helpful for booms, and a huge safety feature," says Tony Nicoletti, vice president of business development for DPL. "The other feature is remote disable. Just like the utilities, if the customer doesn't pay now, the rental house can reach out and disable the starter from anywhere."
Genie F7376
Genie will tout its Lift Connect program, the telematics system focused on actionable information, flexibility and transparency. "No matter what size of aerial equipment fleet — from 10 to 10,000 machines — equipment management is something that rental stores do every day," the company says. "From knowing how equipment is performing or how often a piece is being utilized to where each unit is or when it is ready for maintenance, machine data can provide a lot of insight to rental businesses."
Over time, Genie Lift Connect data can be leveraged on a larger scale and used for predictive and prescriptive activities, such as predicting failures in the field based on how the equipment is actually being used and proactively prescribing maintenance and service.
"Telematics can provide a range of insights for rental businesses about everything from tracking machine location to proactively scheduling machine maintenance and optimizing equipment utilization," says Christine Zeznick, Genie director of product and business development, telematics, Terex AWP. "Using telematics, rental fleet managers have the ability to track equipment and proactively respond to equipment issues in the field, which can make the difference for securing more rentals, as well as forging stronger relationships with customers."
Serious Labs F100901
Serious Labs will be exhibiting its award-winning MEWP Virtual Reality Operator Training Simulators. Show visitors can hop on and feel completely immersed in a simulated world. A new feature of the Serious Labs Simulator is ESP Scoring, a unique scoring system designed to provide standardized training metrics translated into practical terms to better communicate the value of simulator training. "Tracking a trainee's behavior regarding control selection, positioning, precision and reaction is unlike anything the industry has seen before," according to the company. Serious Labs will also have information on its new research and development advancements.
ZTR S63009
ZTR will showcase five new products/services at this year's ConExpo. The M7 is ZTR's response to the industry's need for a powerful, flexible, rugged and affordable telematics device with global coverage, the latest wireless technologies and powerful processing capabilities. The company will also have the T-Series of tag devices on display. The T15 and T25 are built to withstand harsh conditions including shocks and vibrations and allow for simple monitoring and locating of hand tools, attachments and accessories. Small, light and battery-powered, the devices use flexible mounting options, such as screws, cable ties or adhesive, for quick and easy installation on various asset types and sizes.
The company will also showcase its Access Management service, ONE i3 Dashboards and ONE i3 Data Brokerage