Theme park installs Hitachi mini excavators
By Leila Steed31 July 2019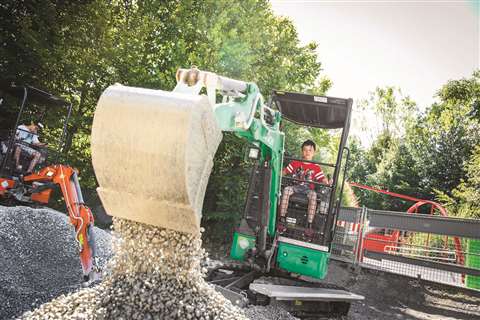 Hitachi has sponsored 10 new ZX17U-5 mini excavators at Ravensburger Spieleland, an adventure theme park near Lake Constance in the south of Germany.
Children from the age of three can sit in the cabs accompanied by an adult, while those aged eight and over are able to operate the machines independently. using the joysticks to lift and unload gravel at the specially created pit.
Ghislaine Jonker, Hitachi Construction Machinery Europe (HCME) marketing manager, said: "We're proud to be involved in a project that appeals to the next generation. Here at Spieleland, children get an opportunity to learn more about excavators in a safe and playful environment."
The Zaxis machines, which had their diesel engines replaced with environmentally-friendly electric motors, were supplied by authorised Hitachi dealer Kiesel.
Before being installed at the park, the machines were modified to meet the safety and quality requirements of the German technical inspection association. Side-mounted climbing aids, belts and barriers to the front of the cabs were added to the machines, which have also been limited to a 30° swing radius the interests of safety.