Tilt Trailer series from Talbert
By Laura Hatton17 September 2015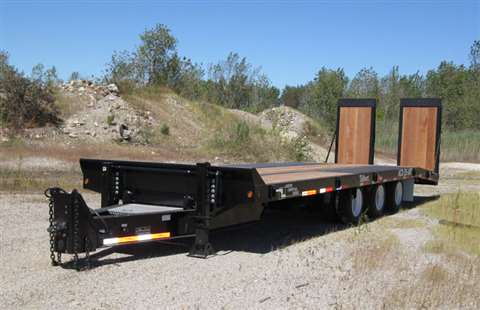 USA-based specialized heavy-haul trailer manufacturer Talbert Manufacturing has launched a new Air Ramp and Air Tilt Series of trailers.
They are designed for easy loading of low-clearance equipment, such as soil and asphalt rollers, the manufacturer said.
The series includes the 20 US ton (18 tonne) capacity AC-20-ART and 25 ton (22 tonne) capacity AC3-25-ART. The models are fitted with controls that use air power to fill bags near the front of the trailer to raise the deck and lower the ramps to the ground. The air-powered ramps eliminate handling heavy ramps and using cranes or other equipment to position loads and help provide additional operator safety when raising and lowering the trailer for loading, the manufacturer added.
In addition, the new models have a 7 degree load angle, 38 inch (965 mm) wide, high-density Apitong wood-filled ramps, 8 inch (200 mm) headboard and 33 inch (838 mm) deck height. The low deck height provides additional clearance for bridges and tunnels when transporting tall equipment, the manufacturer added, and allows haulers to expand the range of equipment transported while complying with US and Canadian hauling requirements.
For additional safety and driver comfort while hauling, the trailers have air brakes and Hutch spring suspension. The ART Series trailers come as standard with Valspar R-Cure 800 paint in red or black. Customers can add the optional Valspar AquaGuard for additional corrosion protection.
Troy Geisler, Talbert vice president of sales and marketing, said, "We received several requests for heavy-duty, tilt-deck trailers with a reduced load angle. Because of that, we developed the ART series as the heavy-haul solution. The trailers provide operators with the maximum view of the equipment and the surroundings and feature the lowest loading height available in the industry."
Talbert is showing the AC3-25-ART trailer at the International Construction & Utility Equipment Exposition (ICUEE), in Louisville, Kentucky, USA, from 29 September to 1 October.