Time-saving bridge installation in Saudi Arabia
By Carrie Bennett12 July 2022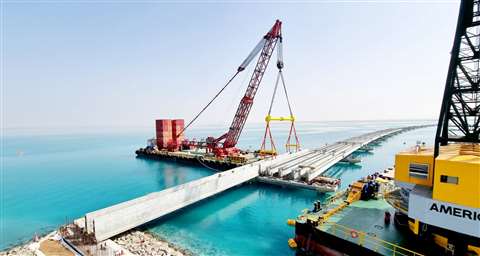 At Saudi Arabia's Red Sea Project, the Red Sea Development Company (TRSDC) has appointed Archirodon, a marine contracting specialist to design and build the iconic Shurayrah bridge to the Shurayrah island. The bridge will stretch 1.2 kilometres, connecting the island and the mainland.
To handle the transportation and installation of 60 pre-cast bridge beam and edge beam segments onto piers, Archirodon approached Mammoet. Initially, the customer was looking at installing the bridge sections by SPMTs on a barge with the help of self propelled modular transporter (SPMT) suspension cylinders to lift and then lower the pre-cast segments on the bridge bearings.
Having studied the project in more detail, however, Mammoet proposed an alternative installation method using a mobile floating crane concept: the MTC 15 crane positioned on a barge, thereby creating a 500 tonne capacity containerised floating sheer leg with an outreach of 30 metres. This installation method would provide significant time savings to the client. It allows the bridge to be built faster by installing one section a day instead of one in two days, and provide more flexibility and accuracy to the operation.  
Jacques Stoof, Mammoet global director market development and innovation, said, "We always work closely with the customers to listen and understand their requirements to be able to offer the most efficient solutions. MTC 15 on a barge or a containerised floating sheer leg is a testament to that as it provides a simple yet effective way to lift heavy loads, both inland and in coastal waters and can be perfectly suitable to any civil project, on any local river or a lake."