Timetable for development
It is a memory that all of us have of some time in our lives. The end of the academic year, the start of the summer holidays, and a mass exodus from the gates of a school that will barely get a second thought during the extended period of learning inactivity that follows.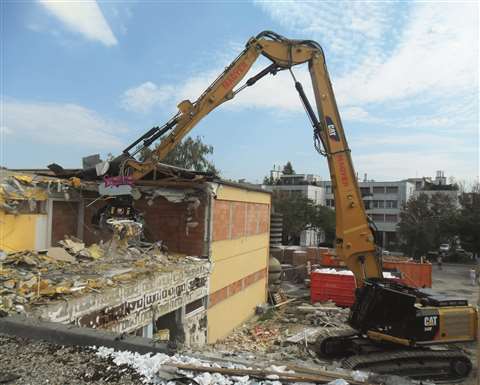 If you are involved behind the scenes, however, the picture is rather different. Repairs, maintenance and upgrades to school buildings continue even if the customer base is not aware they are going on.
With the clock already ticking on the reopening for a new intake of pupils, it is a finite time window for contractors to get things ready. And if that behind the scenes work includes demolition, the pressure is on from the very start.
This was the situation facing Austria-based demolition contractor Magyer during the summer of 2018. The building is the elementary school in the town of Wolkersdorf.
The company has eight weeks, spread over two summers to keep some of the school usable during construction works, to complete the take down of the old buildings as the school – which houses around 500 pupils – modernises for 21st century requirements. The new school will be built on the foundations of the old one.
Fitting the profile
Magyer undertakes most its demolition projects within a 60 km (36 mile) radius of the Austrian capital Vienna, and in that sense the school project fits the profile.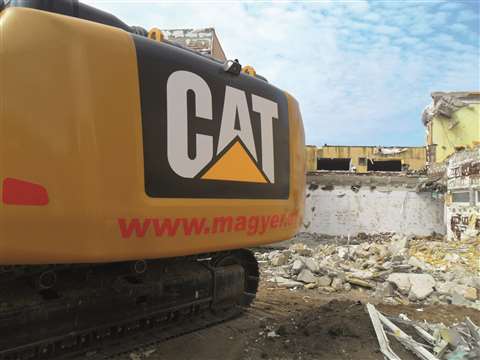 In another way, it is a project that would not have been on the company's radar when it started out just over 60 years ago. Like many contractors, Magyer – which now has 130 employees – has come to the demolition business by a roundabout route. Technical manager Marcel Magyer takes up the story.
"The company was founded by my grandfather, and at that time we were selling sand and gravel. It is in the past 40 years that the demolition part of the business has taken off. At first, we were only demolishing small houses – what we are doing now is far more interesting.
"The big thing was getting on to a tender list for a major job, which we did for a 60,000 cu m (2.1 million cu ft) shopping centre in Vienna. We weren't sure if we should do it, but the client said yes and that was the start of the change. We were surprised and a little bit nervous, but the result was good."
Magyer's secret weapon in the school project is a Cat 340F UHD excavator.
Launched a year ago, the machine can reach up to 22 m of (72 ft) vertical pin height and carry 3.6 t up to 14 m (46 ft) horizontal reach.
It features a C9.3 Acert engine, which meets EU Stage IV emission standards and an engine speed control that automatically lowers rpm when the machine doesn't need it to help save fuel, while three power modes – high, standard, and eco – also help manage fuel consumption.
Multiple work tools
In terms of versatility, a new boom coupling system enables the operator to easily and quickly install or remove high reach and short front parts and the excavator can operate with multiple Cat Work tools designed specifically for Cat machines, and it also includes Cat quick couplers for switching between attachments.
In addition, the manufacturer has developed a demolition cab which includes P5A reinforced windscreen and top glass as well as front and top falling object guards, and an enlarged top window for better visibility in high reach applications.
At Magyer, the 340F UHD is part of a fleet of around 40 machines, which apart from a Liebherr wheeled loader and a Volvo excavator have all come from Cat. It is a mix of new and replacement machines, and the company deliberately retains a young fleet to keep downtime to a minimum.
The excavator was delivered to Austria in July, replacing a rented Cat 330 hydraulic excavator, and joins 15 excavators from 20 to 50 t – a further 10 machines under 20 t are on rental – as well as mini excavators and wheeled loaders. The recycling business is powered mainly by Kleemann crushers.
In many ways the school demolition has been an ideal try-out for the 340F UHD.
This summer's four-week project, all done on a single-shift basis to take account of nearby residential properties – covered 2,000 sq m (21,500 sq ft) of the school's total area of 4,500 sq m (48,500 sq ft). It is a three-storey building, whereas machine operator Julius Ostermann is used to tackling structures twice as high; the job is Magyer's first with a long boom but not a first time for the operator
Taking out the floors was done with 1.5 and 2 t machines, while concrete cutting was handled by a subcontractor as it was necessary to cut along the line of the building before demolition.
It may not be the biggest job that Magyer has ever taken on, but it required a level of precision, a clean demolition as the company's technical manager described it, to maximise the value of the demolition waste produced.
Government investment
Looking at the bigger picture, Magyer is positive. With a demolition portfolio that includes a range of industrial buildings as well as schools and shopping centres, allied to a growing recycling capability, the immediate future is healthy.
"We are very busy this year," says Marcel Magyer.
"Last year was busy as well, but this year is extreme. The demolition market is very good; the government is investing a lot more, there is more road construction and more earthmoving, and people have become more confident. We are normally full for one or two months ahead, but now [August 2018] we are full for the next eight months. We cannot take on any new jobs.
"It helps that we can offer a range of services apart from demolition, whereas not all of our competitors can do this. We are doing a lot more recycling, we are one of only a few companies who have the necessary permission to do this. We recycle from our own sites and from competitor sites as well. If anything, demolition is now our number two activity."
This article is taken from the November-December 2018 issue of Demolition & Recycling International. To see the full issue, or to register to receive the magazine on a regular basis, please visit www.khl.com/subscriptions