Titan Jaso luffers for the Republic
By Alex Dahm17 December 2020
Luffing jib tower cranes from Jaso are helping to build the largest mixed-use residential precinct ever built in Canberra, Australia.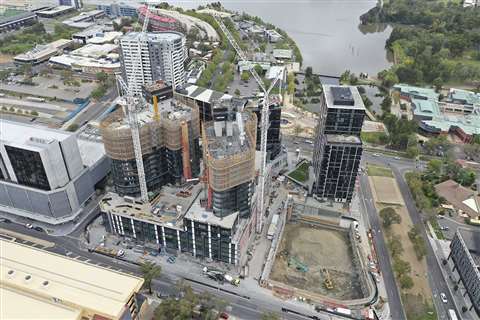 Jaso's Australian partner Titan Cranes put four luffers on developer Geocon's Republic precinct project. They are three J280PA models and one J380PA. The former have 60 metre jibs and the latter 65 metres. Capacity is 36 tonnes and the tip load is 3.5 tonnes.
The vast project in Belconnen includes 1,300 apartments and amenities, Canberra's first metro, an hotel, restaurants, shops and leisure facilities. Stage two of the development is called High Society. It will be Canberra's tallest structure, visible from as far as 50 km away. The third and final stage is the Nightfall residential development.
The PA series Jaso luffers offer reach from 40 to 70 metres and capacities from 5 to 75 tonnes, Jaso said.