Top construction stories of 2022 so far
By Lewis Tyler08 August 2022
When reflecting on the year so far and the biggest news stories that have impacted construction,  supply chain issues, increased cost of raw materials and a war in Europe all come to mind. Despite these challenges, there are positive signs for the sector. OEMs are beginning to show signs of sustained growth and recovery from the pandemic, and with second quarter results being announced, expect growth to be a common theme.
With that in mind, Construction Europe takes a look at the biggest news stories in construction in 2022 so far.
5. European constuction sector to grow by 2.5% in 2022
Investment from the EU recovery fund could see the European construction sector grow by 2.5% this year according to global economic analysis specialist ING.
The company claim that increased business confidence is back to levels that haven't been seen since before the pandemic.
The analysis also revealed that a record number of firms planned to increase prices at the beginning of the year.
The construction sectors in France and Belgium perhaps saw the most positive outlook, with ING estimating that the respective countries will continue to see recovery from Covid throughout the remainder of 2022 and in to 2023.
4. JCB gives hydrogen combustion update at New Power Progress (NPP) Summit
In May this year, Tim Burnhope, JCB's chief innovation and growth officer gave a presentation at the NPP Summit in which he provided an update on hydrogen combustion engines.
The free online event, which was organised by New Power Progress, Diesel Progress and Diesel Progress International magazines covered a range of topics involving new power technologies. 
Other speakers at the Summit include: Amy Davis, vice president & president, New Power, Cummins; Deepak Shekhar, product manager, E-Mobility Solutions, Scania; Benjamin Oszfolk, systems engineer, Fuel Cell Energy Storage Systems Marine, Rolls-Royce Power Systems; Peter Tepfenhart, product manager for Construction Machinery, ZF, and David Stockbauer-Muhr, head of Electric Systems Development for Off-Highway Applications, ZF Off-Highway Business Unit.
A full stream of the NPP Summit 2022 is available to watch on the NPP website.
3. Bauma sold out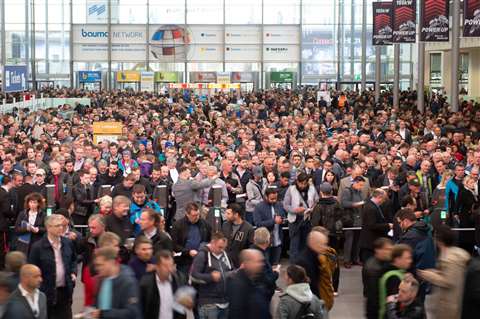 Having been postponed due to uncertainties surrounding the pandemic, this year's instalment of global trade fair Bauma will mark three and a half years since the last event. For this, and many other reasons it is perhaps no surprise the show is sold out.
According to organisers Messe München, 97% of available space for the event had already been booked by January, which it says indicates that "people are eager to meet in person again."
For an in depth look at what visitors can expect at Bauma 2022, which takes place this October, click here.
2. European cities push for zero-emission construction sites
It would be a disservice to the construction industry to say that not enough is being done to reduce emissions of machines on sites, however, it should also be said that stricter regulations and the EU's plans to be climate-neutral by 2050 has accelerated the use of low-emission and zero-emission machines.
Earlier this year, KHL writer Lucy Barnard explored the topic of electric construction equipment and found that several European cities had implemented measures to reduce emissions produced on construction sites. It was also revealed that Oslo, Copenhagen and Helsinki are to pilot the world's first zero-emissions construction sites.
1. The impact of the war in Ukraine on construction
The war in Ukraine has had a significant impact across many industries, including the construction sector. Following the invasion, several construction companies withdrew from Russia in a bid to protect staff and support Ukraine.
Komatsu, JCB and Hitachi Construction Machinery were some of the earliest companies in the sector to announce they would cease operations in Russia.
In fact, Hitachi said that they planned to "halt exports from Japan to Russia until further notice" as well as close operations of its Russian headquarters.
Nearly six months on, the likes of Caterpillar, John Deere and many other manufacturers have either ceased trading in Russia or stopped shipments to the country.
In the initial stages, Construction Europe provided updates on the war and its impact on construction.