Tower block job for Armoury
By Lindsay Gale30 April 2010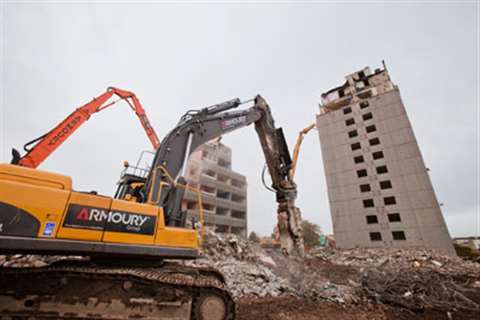 Armoury Group has completed the demolition of two tower blocks as part of a regeneration project in Solihull in the West Midlands, UK, for clients Solihull Council and Whitefriars Housing Group. Worcester House and Nuffield House, both 16 storey structures, had been uninhabited for a long period of time and were removed to make way for a new shopping complex.
Armoury made use of a 60 m (197 ft) Hitachi high reach to demolish the top four floors of both towers following asbestos removal and soft strip. A second high reach then took over, in this case a Hitachi 870 mounting a 43 m (141 ft) boom, to bring down the next six floors, with a third Hitachi 360 completing the remainder of the job.
Approximately 95% of the resulting 15,800 tonnes of demolition waste, which consisted of a mix of concrete, brisk, steel UPVC and glass, was recycled by local midlands based companies. The concrete from the site was transported to Armoury's waste recycling facility in Birmingham for processing, after which it was then sold on as aggregate for construction and civils projects throughout the Midlands.
According to Armoury's operations director Keith McDowall: "It was important that Armoury was able to demonstrate that it can deliver highly sustainable solutions during environmentally hazardous processes on regeneration projects of this nature."
He went on to say: "The regeneration of any area signals a new beginning for the local community and its surroundings, and our team had a duty to effectively dispose of these structures in a way that was both empathetic to the general public and the current infrastructure. This is exactly why we always plan each project so rigorously to provide minimal environmental impact and disruption, whilst meeting the sustainability standards of our partners."
"As the site was located in the heart of a residential community and backed directly on to a number of bungalow's, Armoury asserted precision planning to ensure that an optimum level of Health & Safety was adhered to throughout the course of the project."
"By protecting nearby homes most affected with scaffolding and maintaining a constant flow of information to local residents with weekly update meetings, Armoury achieved a smooth demolition process from start to finish."