Tower crane lift launch from Alimak
By Euan Youdale09 October 2015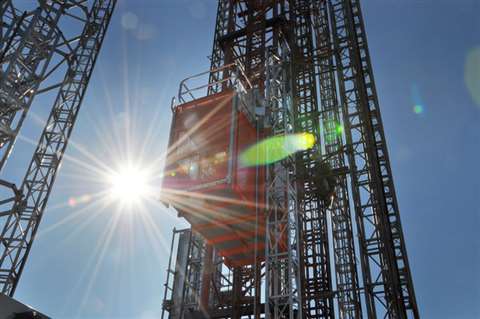 Alimak Hek has officially introduced the Alimak TCL tower crane lift, designed for a range of tower crane brands.
According to the company, the TCL boasts an innovative design that offers the fastest external installation available on the market. It allows a greater tie distance, which can be adapted to a specific tower crane mast platform. As a result, fewer ties are required, reducing the total lift assembly time and minimising potential crane downtime.
The TCL has a compact mast and rack made of durable galvanised steel. This enables easy assembly with centering notches and captive bolts. Flexible and modular tie-ins fix the lift car to the majority of existing crane mast systems, says Alimak Hek.
Capable of transporting a maximum of two passengers, or 200 kg, the lift is designed to provide a fast, ergonomic and all-weather alternative to traditional crane ladders. It has a lifting speed of 24 m/minute.
With no modifications to crane masts required, the TCL can be retrofitted to existing tower cranes and is fully compliant with EN 81-43: Lifts for Cranes. Other features include mechanical, electrical interlocked doors, while a reversible cab enables the doors to be located on the left or right, to suit a variety of tower crane systems and site needs.
The ALIMAK TCL was launched at Alimak Hek's premises in Paris, France during September and will be available to order in early 2016.