Tower trio new from Terex
By Alex Dahm and Christian Shelton10 October 2019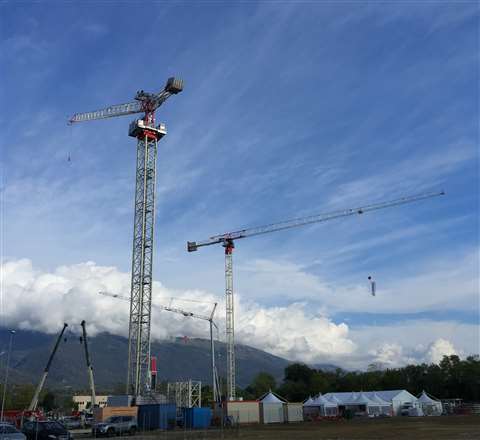 Terex Cranes in Italy has announced three new tower cranes, including the company's first hydraulic luffer, to broaden its offering.
The manufacturer previewed the cranes at an event held at its testing site in Polcenigo, close to its Fontanafredda tower crane production facility in northern Italy on 10 October.
Largest of the three is the 12 tonne capacity CTLH 192-12 hydraulic luffer, the first of its type from this manufacturer. Maximum jib length is 55 metres, at the end of which capacity is 2.35 tonnes.
Its out of service radius when parked is 8 metres. It can be mounted on the HD23, TS23, TS21 or H20 tower masts. The hoist winch is 67 kW and the hydraulic luffing mechanism is 30 kW. Features of the control system include Terex Power Plus and Terex Power Match. Easy set up is promised and Terex said it is ready for fitment of anti-collision and zoning systems. It uses the T-Link telematics platform and has the S-Pace cabin.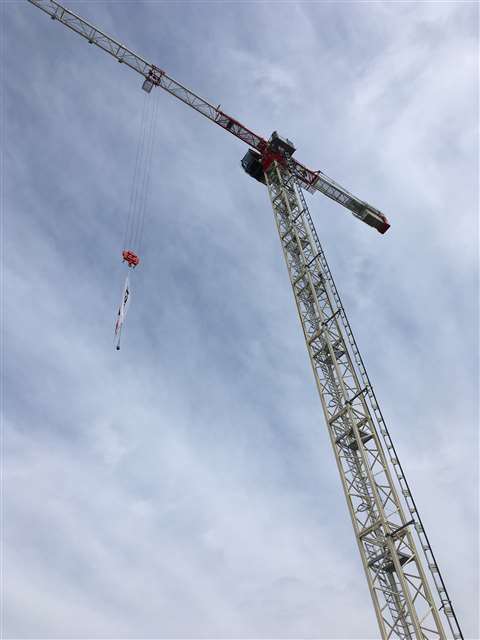 The new CTT 172-8 flat top is an 8 tonner (on four falls of rope) with a maximum jib of 65 metres. The 4 tonne version on two falls of rope lifts its maximum out to a radius of more than 25 metres. Maximum freestanding height is 64.9 metres. Compatible tower sections are TS16 – TS21 and the other control system features are as per the hydraulic luffer.
It replaces the CTT 162 with 200 kg more tip load capacity and the new electronic control systems. Set up is faster and easier, and operating speed can be reduced to increase capacity, Terex said. It has a new cabin and the power match function reduces electricity consumption.
The new CSE 32 self erecting tower lifts 4.4 tonnes and has a 32 metre jib. Tip load is 1.15 tonnes and the hook height can be altered between 19.7 and 21.5 metres. Its swing radius is 2.25 metres.
Following final testing, the CTT 172-8 will be available from December 2019, The CTLH 192-12 from January 2020, and the CSE 32 from the second quarter of 2020.