TPA solution for National Grid project
By Thomas Allen04 February 2019
Temporary trackway rental company TPA is helping to reduce costs and keep ground damage to a minimum at a power line refurbishment project in the UK.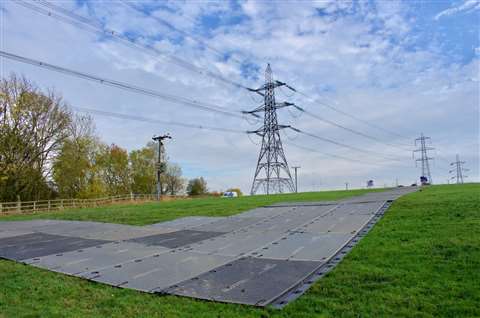 A total of 10,000 roadway panels – providing more than 20km of access – are being used by contractor Babcock International to restore the National Grid's 50-year-old overhead line that runs for 48km along the M62 corridor between Monk Fryston in North Yorkshire and the Bradford West sub-station.
TPA delivered a similar solution between Stalybridge and Thorpe Marsh last winter, helping them to secure this contract.
The project is not without its challenges – as well as other overhead power lines, the route encompasses four crossings over the M62 and M1 motorways, four rail crossings and the River Aire.
A combination of almost 7,000 heavy-duty aluminium panels and 3,000 plastic Terraroad panels have been used for the access roads and work areas, with the addition of TPA's plastic TuffTrak panels to provide a breaker in the aluminium access.
All the equipment was installed by TPA to provide access for the main contractor's and its sub-contractor's construction vehicles, which include dumper trucks, tractors and cranes, weighing anything up to 250 tonnes.
Work on the first phase started in September 2018 and broke for Christmas. The second phase will start this February and last until the spring.
Babcock's site manager Eugene Fox said, "There are benefits in using plastic panels wherever possible as those can be left in place over the Christmas break without the need for security – which helps keep costs down on the project."
Costs aside, it has been particularly important to protect the ground given that work has been carried out over the winter.
The TPA panels are delivered by a fleet of specialist vehicles and installed by accredited installation teams. TPA's project co-ordinators conduct a maintenance visit at the sites every week and attend the weekly contractors' meetings to co-ordinate TPA's activities with those of the project.