Tracked expansion plan at CTE
By Euan Youdale03 December 2019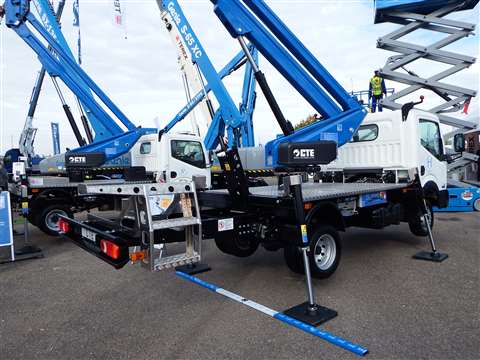 The CTE stand at GIS 2020
CTE is working to renew its tracked platform range and has launched a truck mount.
At the GIS show, in October, the company announced plans to significantly grow the tracked platform offering. The company's newly-appointed Traccess brand manager Giovanni Carbonara, who moved over from fellow Italian manufacturer CMC this year, says at the moment tracked platforms account for less than 20% of revenue and the plan is to increase this to 40%.
The first model was set to be launched in November; a 27m working height unit with a double pantograph and jib. The new range will have remote connectivity for easy maintenance for rental companies.
The company is also concentrating on the smaller end of the market, specifically 13m to 20m working height. And will have models ready for March or April next year.
Nevertheless, CTE is still serous abut truck mounts. It was introducing a narrow jacking truck mount at the show. The Z-20.3 HN, is a 20m working height platform. It has an outreach of the 8.4 m and a capacity of 280 kg in basket. The H stabilisation means that the total width of the vehicle, when it is in use, is 2,288mm, a difference of just 88mm, compared to the vehicle dimensions while in transport. It replaces two models, one of them being the Z20 Easy with A-shaped outriggers and the Z20.3 with extendable front stabilisers. The company says it wanted to squeeze the same performance in to a model with the inside jacks.
The company was also showing its Zed 25 on a Nissan truck. It has all the latest features, including the S3 Smart Stability system and variable stabilisation and envelope control. Another feature is the 'virtual ceiling', which allows the owner/rental company to set a maximum or variable working height from 8m to 25m. It also means the machine can be set at 20m so that it can be rented as a 20m working height machine.