Tracsa becomes exclusive Manitowoc brand dealer
By Leila Steed11 December 2019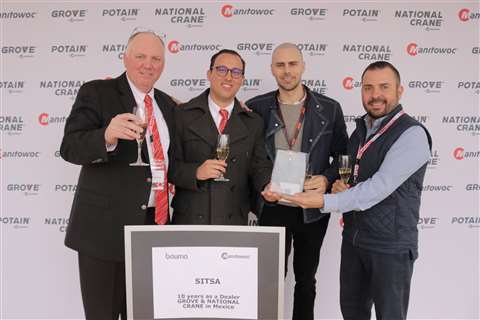 Tracsa Group has become the exclusive dealer for Manitowoc's Grove and National Crane brands in Mexico.
While the group, which comprises the companies Sitsa and Tracsa, has been a dealer for the manufacturer for more than a decade, it will now offer sales and aftersales services for the complete product lines.
Juan Paulo Mejía, Sitsa industrial commercial manager, said, "We are very pleased to be Manitowoc's exclusive distributors for Grove and National Crane products in Mexico. We have the proper infrastructure and expertise to represent these two brands since we have been business partners for so many years. Our customers have come to expect extraordinary things, and we want to continue to provide superior service for them."
Operating in the Mexican market for around 45 years Tracsa Group has a combined total of 31 locations across the country.
The business will now stock a portfolio of National Crane boom trucks and Grove all terrain and rough terrain cranes, including the GRT8100, GRT880, GMK4100L, GMK5150L and GMK5250L-1.
Speaking about the new partnership, Jorge Zanella, regional business manager for Grove in Mexico, said, "For the last year and a half, they intensified their technicians' training for Grove and National Crane to enhance services. The new partnership with this renowned group will boost access to Grove and National Crane products in Mexico and help us increase customers' uptime."
According to Manitowoc, Tracsa Group is also committed to improving local parts availability.