Trevi Benne to bring MA Series to Bauma
At this year's Bauma, taking place in Munich, Germany, from April 8 to 14, Italian company Trevi Benne will show its MA Series, a new generation of multi-function crusher.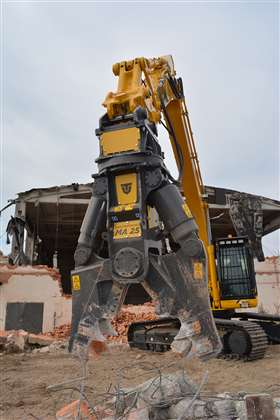 The multi attachment is a mix of crushing power, speed in the open/close cycle and reliability on site. Available in the version with Combi Kit and Suisse Kit it is suitable for demolition processes from the demolition and crushing of concrete structures, to the cutting of reinforcing rebar and metal profiles.
Visitors will be offered the MA 25 model with Combi Kit weighing 2,700 kg (5,952 lb).
The multi attachment MA is already available in five different weight classes, from the MA 18 model of 1,900 kg (4,188 lb) to the MA 65 model of 11,000 kg (24,250 lb).