Trimble launches Roadworks 2D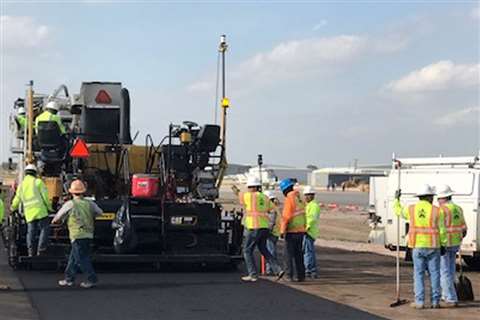 Technology firm Trimble has launched its Roadworks 2D Paving Control Platform for asphalt paving.
Trimble says the new system can help contractors reduce both asphalt waste and project time, while improving finishes.
As opposed to the 3D Paving Control system, which allows paving with variable depth and slope, the 2D version helps paving to a fixed thickness, after they have been graded or milled using 3D machine control.
Each side of the paver is typically equipped with one sonic tracer or with three sonic tracers mounted on an averaging beam. These tracers send signals to reference off the existing surface and calculate an average elevation for paving a smooth surface.
Those already familiar with its technology, says Trimble, will find the Roadworks 2D platform intuitive and straightforward to operate, as the software uses the same interface as the company's Earthworks Grade Control Platform and launches from the Android operating system.
Kevin Garcia, general manager for Trimble Civil Specialty Solutions, said, "This new platform leverages the intuitive Trimble machine control interface and applies it to asphalt pavers, making it easy to use and learn, and more accessible for many different types of contractors."
Phil Foley vice president of Operations at Austin Materials and Industrial Asphalt & Aggregates, which has been using the new system, said, "Having automatic grade control on our pavers just eliminates the near misses and potential safety hazards, along with extra work that takes time. Now, our guys can just zero in and focus on getting to grade and tolerances quickly and producing the smoothest surface possible."