Trucks to expand Time fleet at APEX
By Euan Youdale06 April 2017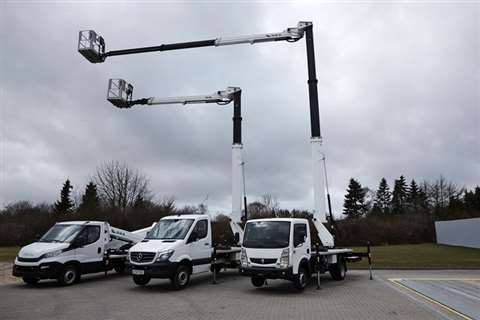 Time is set to launch new VTX vehicle mounts at APEX. The dual boom Versalift VTX-240 is now available for the Iveco Daily and Renault Maxity 3.5 tonne Euro 6 chassis, in addition to the traditional Mercedes-Benz Sprinter version.
The Euro 6 Iveco Daily version will be shown for the first time at the exhibition, taking place 2-4 May in Amsterdam, while the other addition to the series, the Euro 6 Renault Maxity mounted VTX-240, is now taking part in a roadshow hosted by Time Versalift SAS, in France.
The performance of the two new units is similar to the Mercedes-Benz Sprinter mounted unit with a maximum working height of 24.2m at full capacity and a maximum outreach of 12.5m with 80kg or less. The unit has advanced electro-hydraulic FPC controls with variable outreach, auto setup and packing - home function - and on-board diagnostics in the basket. The basket capacity is 220kg and all units feature enough leftover payload to accommodate a driver, a passenger and a full tank of fuel while remaining well within the realm of legal driving in the 3.5 tonne GVW class.
"We know that different customers prefer certain vehicles, and with the addition of the Iveco and Renault mounted versions our ambition is to open up new European markets for the Versalift VTX-240," said Per Torp, CEO of TIME International.
Time International will exhibit the Versalift VTX-240 for Iveco Daily and a range of other units in the outside area of APEX on its joint Time/Ruthmann stand (1230). Stay tuned for more news on units to be shown at APEX, said the company.