Trump rises thanks to Spider
By Sarah McCay14 July 2014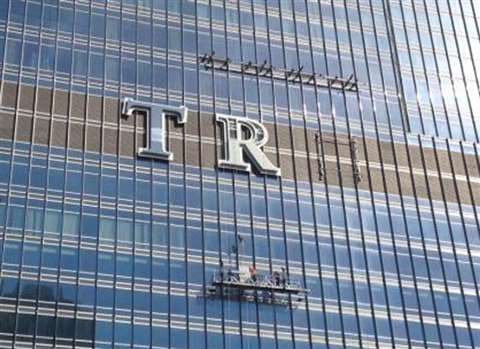 Poblocki Sign Company employed the use of several Spider hoists for the recent signage installation at the new Trump International Hotel and Tower in Chicago.
The project included the installation of five stainless steel, LED backlit letters to spell out the Trump name. Weighing an average of 900 lbs (408 kg), the five letters were installed at the 15th floor level of the skyscraper, and spanned 140 linear feet (42.6 m).
Brand Scaffold rented and rigged two 40-ft (12 m) swing stages powered by Spider's SC1000 traction hoists and equipped with walk-thru stirrups for the six-week duration of the project. This gave Poblocki Sign Company safe and secure access to the façade for the sign installation.
"As a long-time customer of Spider equipment, we couldn't be happier with their equipment's ease of use," commented Mark Eesley, installations, service and building manger with Poblocki Sign Company. "Even with multiple rigging changes, all trades involved on this complex project worked seamlessly together to safely install the signage according to the tight timeline."
Additionally, a monorail trolley beam was installed at the 17th floor level to enable an SC1500 material hoist to be mobilized and repositioned as needed when lifting each of the massive letters safely into place.
Spider worked with the contractors to temporarily remove a section of windows on the 17th floor and anchor the outriggers directly into the concrete floor slabs, two stories above the installation site.
A staging area was established on the ground level to store and assemble the swing stage equipment prior to the installation, and a portion of Chicago's famous Riverwalk below the installation site was closed to pedestrian traffic throughout the project's duration to ensure public safety.